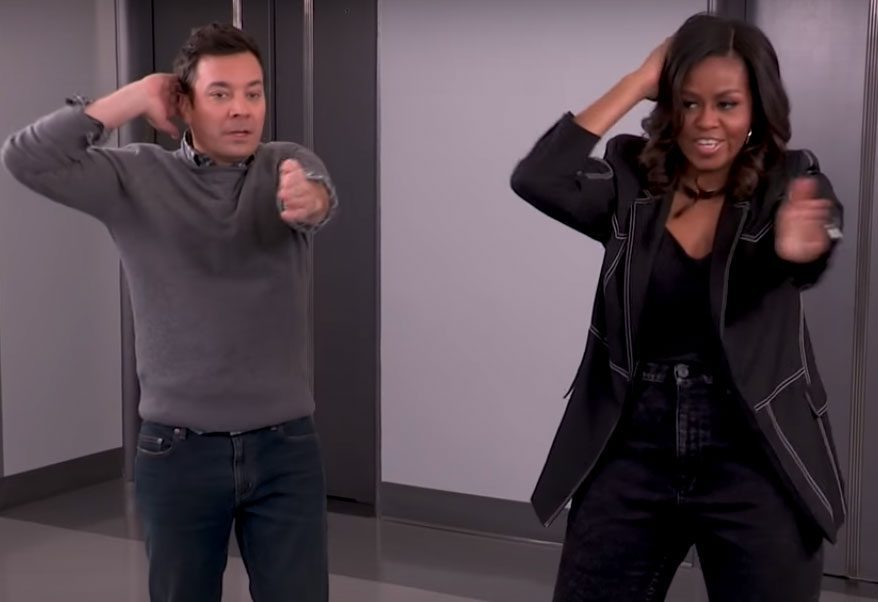 Former first lady Michelle Obama continues to shine since leaving the White House. Currently, on a tour promoting her new book Becoming, Obama did a guest appearance on "The Tonight Show starring Jimmy Fallon" Tuesday night, Dec. 18, 2018. Not only did she talk about her book, but she also surprised some tourists and threw shade at Melania Trump.
During a long interview segment, Fallon asked Obama about the days leading up to her departure from the White House. She described it as a stressful time that included a request for a sleepover on the last night from her daughters' friends. That request was promptly denied, she said, with, " 'Are you guys kidding me? We're leaving, you've got to take all your stuff, pick up the blankets and the bears,' … and they were all crying, and I was just like, 'Get out. We've got to go.' "
Then Michelle decided to throw shade at current first lady Melania Trump. Fallon asked Obama about the day the White House was officially turned over to the Trumps. The host then pulled out a picture of her and the former president walking aboard Air Force One after Trump's inauguration in 2017.
Fallon then said, "This is you. This is after the Trump inauguration just waving from Air Force One. Can you just walk me through what…" Before he could finish, Obama made a face and said, "Bye Felecia" — a line from Ice Cube's movie classic Friday.
To top off her experience on the show, Obama and Fallon did a segment that pulled pranks on unsuspecting tourists at the NBC studio. It can be seen in the video below: