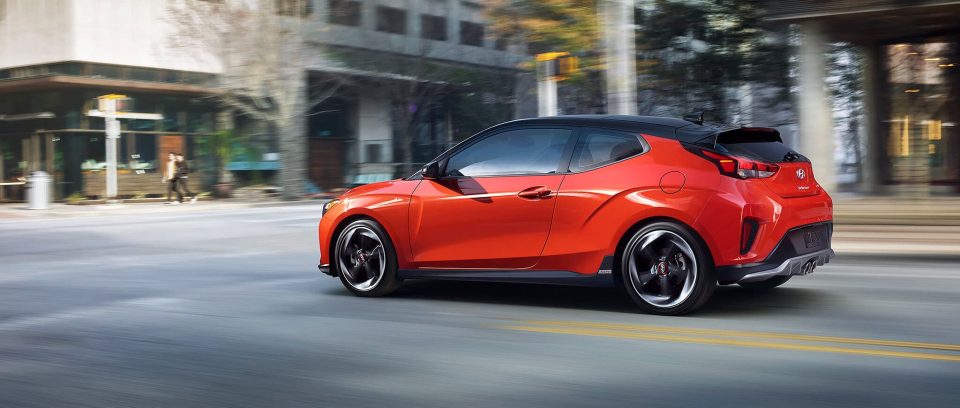 Hyundai's 2019 Veloster R-Spec, is a fast, fun, hot sporty car. Don't let the hatchback and three-door configuration fool you. Once you get out of city traffic, you will have the urge to see just what this little car can do out on the open road.
Hyundai first introduced the Veloster in 2011 as a replacement for its Tiburon sport coupe. Though it was a spunky little car, people still perceived Hyundai as "good for Korean cars."
Today, Hyundai has managed to shift the mindset of consumers and car enthusiasts alike with its second generation of the all-new sporty Veloster. For a hatchback, the 2019 Veloster R-Spec has a sleek tapered look. The accented alloy rims and cool color trim packages (Phantom Black, Space Gray, Sunset Orange, and Thunder Gray) put it in the running with other compacts and hatchbacks.
Hyundai provides two options for this spunky little fireball.  You can get it with a 7-speed automatic transmission, EcoShift Dual Clutch, Paddle Shifters or 6-speed manual. In my opinion, there is only one way to drive this car — using the manual stick.
This car comes with a load of standard features, including:
– Body-color exterior door handles;
– LED daytime running lights;
– Wide sunroof;
– Unique black front grille.
The 2019 Hyundai Veloster R-Spec is a fun little car to drive. It's the right size and price for that person looking for a cool, affordable car. It starts at a modest price of $21,150.