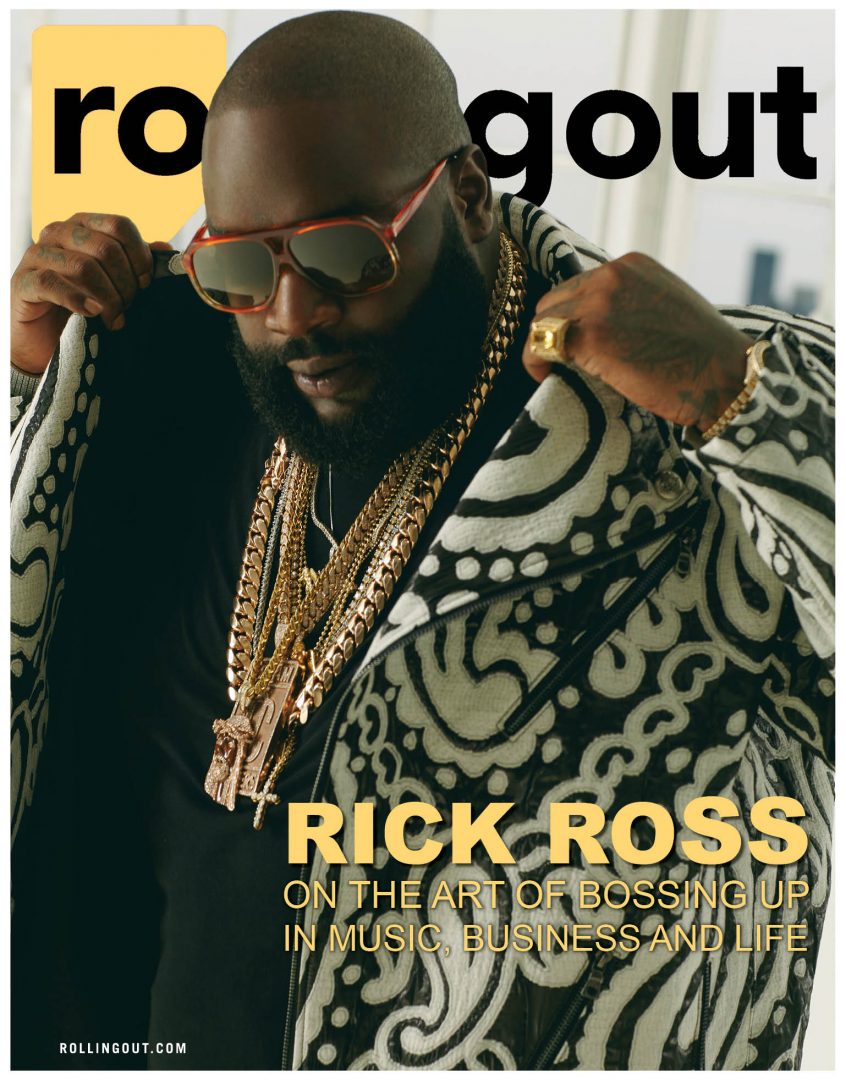 When Rick Ross walks into a room, he commands attention without saying a word. Beyond his physical size, which earned him the moniker "Biggest Boss," Ross knows how to make gigantic moves when it comes to business.
On a cold fall evening in Atlanta, Ross sat on a stage at the Revel event space alongside Steed Media Group CEO Munson Steed and producers Zaytoven and Ray Murray who all revealed their stories and vision of success at the music master class sponsored by Craft Syndicate. 
Ross shared his story of starting from nothing and finding success in the music business and other ventures. He fondly recalled the beauty of the journey, which at times was more enjoyable than the destination.
During the mid-2000s, Ross would hit the road with several of his close friends with the hopes of marketing his music to a wider audience. His crew would be six or seven deep in an SUV or van traveling to small cities in the South. Without much funding, they would stay in cheap motels to get a few hours of rest before making the next stop.
"It's like Meek Mill says, 'It's levels,' " Ross said during an interview with rolling out. "I just believe as long as you're hustling hard, you're going to get what you need out of the game. Before I got on, I wish I could've enjoyed it more. Me and my homies would be seven deep in a $29 hotel room. And at the time, we didn't see the enjoyment in that. It was really a beautiful moment. You're sitting there with your dogs right now, and you're just learning to edit, just learning how to record. And if you're a tattoo artist, you're just doing your first tattoos. Those [were] really special times [but] we never realized [it] back then. So, what I'm telling you is that wherever you're at, just appreciate it and don't stop. It will play an important role in the future."
Ross finally got his big break in music with the release of the 2005 hit "Hustling," which opened the door for his classic debut, Port of Miami. But even with the success of his debut album, which secured platinum sales, Ross decided to save his first big paycheck. The fickle nature of the music industry made it important for Ross to strategize.
"I was blessed to go through the struggle, so when I got my first big check, I did not spend a coin for 11 months," he revealed. "I just had my mind on something else. I just knew that I ate Ramen noodles long enough, and I did not want to go back to those noodles yet. So, once I got on, I stacked some [money] so I was in the position to try something new."
Ross was able to turn his rap hustle into a business hustle by starting his own label, Maybach Music, and opening several Wingstop restaurants.
"I remember eating Wingstop like five times per week, so I decided to purchase one, and now I have a bunch of them," he said.
But even with his success in business and music, Ross still takes time to learn and perfect his craft. "I feel like I'm going to always remain a student in the game," he explained. "There is always room to absorb. I'm looking for the young hustlers who are as ambitious as I was when I refused to go to sleep. I wanted it so bad to where if I at least got three hours of sleep that night, then I knew that was a good night. It got to the point where they told me that I would die if I didn't go to sleep. But that's just how bad I wanted it. And that's how much I loved doing what I was doing. So, I'm always absorbing. I'm always watching. I'm always a student. Me collaborating with artists is how I created my platform. Me, DJ Khaled, Lil Wayne and others. I come here to Atlanta to network with all the homies, and that's what it is all about. And when a boss comes into the room, if you [are] a true hustler, he should be able to feel that you're a team player."
Ross has provided a platform for a multitude of artists who are successful such as Meek Mill and Wale. He builds his teams by networking and putting his artists in the best positions to score in music.
"Teamwork makes the dream work," Ross said. "I was sitting outside, and a young lady approached me saying she just wanted to network. This is what these opportunities are all about, networking. Where we come from, sometimes we are scared, but we must stay persistent. And that's what it's all about."
In 2019, Ross will set the stage for the release of his 10th studio album, Port of Miami 2. At a time when rap artists often struggle to remain relevant, his consistency has allowed him to endure. He believes that love of art or business should inspire the work needed to be great.
"I try to make sure I'm doing something that I love to do," Ross said. "I feel like if it's something that you love to do, you're not watching the watch. [There is] no limit to the amount of time or amount of work [you will put in] if it's something that you love to do. If it's something that you love to do, [there] isn't a plan B. … It ain't no business if it ain't no product. Keep the best product and remain creative. You won't be able to do everything, so you have to connect the dots … boss!"
Story by A.R. Shaw
Photos by DeWayne Rogers