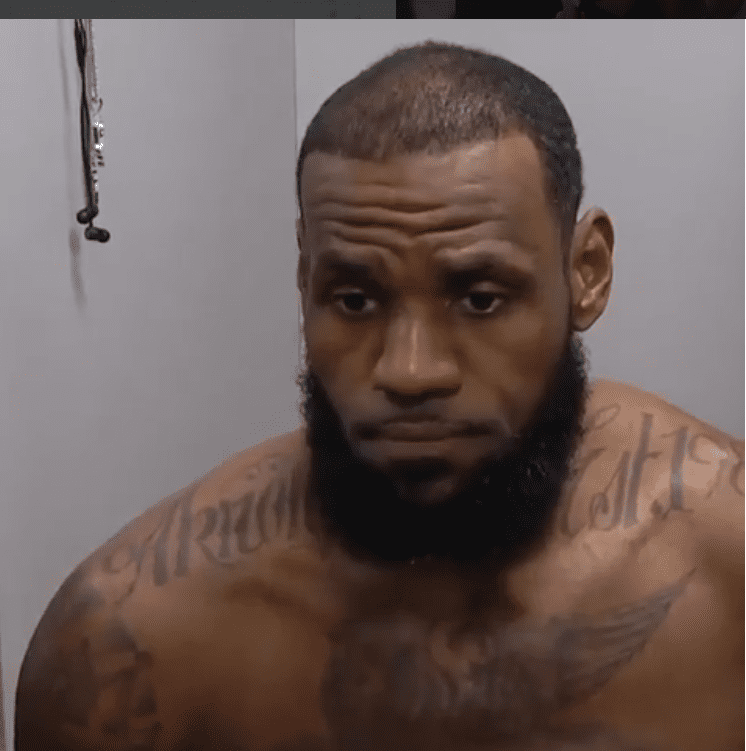 LeBron James lit a social media fire after he had the intestinal fortitude to call himself the greatest of all time in a recent video that has now gone viral.
Many NBA fans and sports pundits consider that statement as nothing short of pure blasphemy and, most of all, an affront to Michael Jordan — who many think is the best player the sport has ever produced. Furthermore, Jordan was never known for his humility nor shyness during his playing days, yet he refuses to call himself the GOAT out of respect for the all-time great players who came before him.
In fact, in an interview with ESPN's Michael Wilbon, Jordan says he cringes when he is told that he is "the greatest," because he never got to compete with the legends of yesteryear, so it is a statement he said he would never utter.
Michael Jordan on the 🐐 tag. pic.twitter.com/dAGfxRcX4Z

— Andscape (@andscape) January 2, 2019
So why would King James utter such a statement about himself — and do so with such an air of confidence?
In an ESPN series "More Than an Athlete," James, 34, says the comeback from being down 3-1 against the Golden State Warriors to win the 2016 NBA championship put him on another plateau. Also, James played the role of the prodigal son, the man who angered throngs of Cavs fans to chase championships in South Beach, but who later returned to his hometown (Akron and Cleveland are 30 miles apart) to deliver the first title in any sport in more than five decades.
And that Warriors team had set the NBA mark with the best regular season record ever at 73-9, therefore, James believes his accomplishment "made me the greatest player of all time."
The four-time NBA MVP and three-time champion, now with the Los Angeles Lakers, added: "That's probably one of the only times in my career I felt like, oh, s—, like you did something special."
While it was a spectacular feat, many fans vehemently disagree with James' assessment. Some dug up old Jordan stats to prove that MJ was clearly better than James ever wanted to be, most glaringly the fact that Jordan went 6-0 in NBA Finals appearances, compared to James' 3-8 Finals record. Moreover, many fans dismissed James as a choker in 2011 when the underdog Dallas Mavericks came back to beat his Miami Heat team in the championship series. Jordan, on the other hand, thrived with taking the last shot and excelling down the stretch.
Listen as James calls himself "the greatest" in this ESPN video posted on YouTube below and then check out the explosion of opinions on social media.
Check out a sampling of the raging debate on James' claim that he's the best there ever was, including some serious LBJ defenders:
https://twitter.com/DKMene/status/1080841958313115652
If you were truly the greatest, you wouldn't have to tell people that #LeBron

— The Gunslingiest (@RedMamba707) January 3, 2019
Being a @Cavs fan I have to say #KingJames is no GOAT. @KyrieIrving was a big reason why we were in those games

— Edward D Koch (@Koche003) January 3, 2019
Why you do that skip??? DENIAL does not look good on you. LBJ defeated Goliath single handedly 💯 he also carried an NBA organization ON HIS BACK to numerous finals. M.J did NO SUCH THING! #GoatJames #LBJ #KingJames👑

— Louis Rich (@logik728) January 3, 2019
Ok, you mad that he said it as opposed to allowing others to but I'd rather he be honest with himself always. #KingJames

— Dope.Francis™️ (@100PercentAfrik) January 1, 2019
The amount of bitterness ….#kingjames is the greatest. The only reason Golden State defeated him is because they became unfairly stacked. KEEP YOUR HURT FEELINGS TO YOURSELF.

— Nigerian Woman (@nnekacriss) January 1, 2019
https://twitter.com/EricBro91042646/status/1079838754767073281
#MichaelJordan #LeBronJames RT
@natemar3i0n

humble vs arrogance https://t.co/ltyo6KQbW5

— UncleWoodrow (@WoodrowUncle) January 1, 2019
Chauncey Billups Says #LeBronjames Can't Use Beating The Warriors to Make Himself The GOAT Because Kyrie Made The Winning Shot.
(Via @BSO) pic.twitter.com/b0p1Y8NhRh

— ChangeofplanZ Media🚪🎞🏆 (@ChangeofplanZ1) January 3, 2019