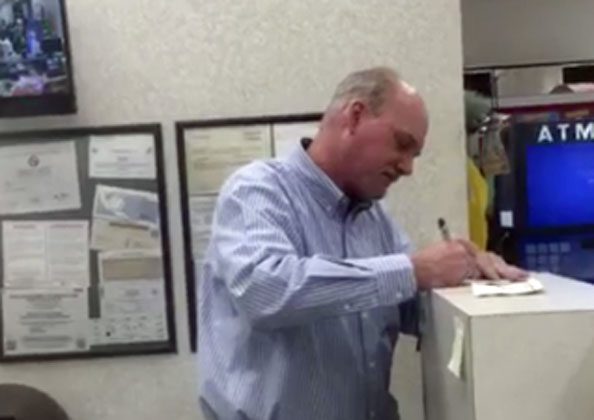 A simple trip to the local Kroger grocery store to buy snacks resulted in the unwarranted criminalization of four young Black men ages 15, 16, 19 and 20. The group of family members had walked to the neighborhood Kroger in Mesquite, Texas, and had purchased their snacks with no issue when they were told by an employee that the manager had called the cops on them and that police would arrive at any moment.
But they had done nothing wrong, it was the store manager who had profiled them and deemed them to be shoplifters with no evidence. Zavarion Swain was one of the teens in the group accused of shoplifting. He told a local NBC affiliate that "I looked at the manager and I asked him what we did and he was like, 'We've had problems with people like you before.' "
Zavarion then called his mother, Ukiah Swain, who was not having it that day and went to the store. She then began to Facebook Live the encounter, which literally made the manager cover his face and run into his office. It was only when police told him to come out of the office and sign criminal trespass warrants against the four young men that he emerged. Now with his face fully exposed, the mom began to question his motivation and stated that he can't hide now and everyone will know his face.
Kroger's Dallas division has reviewed the situation and announced that the store manager and other employees involved in the incident have been removed from that location. The company is continuing the investigation into the matter and issued a statement which reads in part, "We strive to provide a welcoming environment and to show respect for all customers. We did not live up to our values in this situation. We recognize these steps alone won't change the broader systemic and cultural biases that plague our society, but we believe that together they demonstrate the seriousness with which we take these issues and our desire to be a part of the solution."
The company has reportedly apologized to Ukiah Swain but she was not satisfied. She wants the company to apologize personally to her four family members who were unjustly profiled. All four young men were issued criminal trespass warrants but no charges were filed.
The video of the encounter can be seen below: