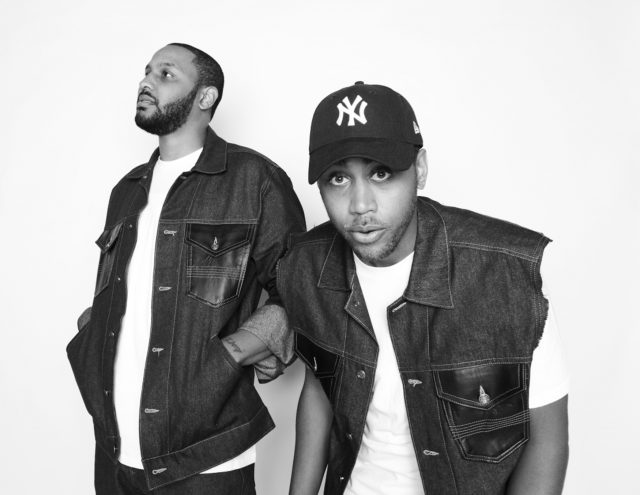 Up-and-coming rappers continue to emerge in the music industry, and hip-hop duo Jae Mansa appears to be making all the right moves to solidify their spot.
Cousins Daron "Jae" Johnson and Brandon "B" Boone formed Jae Mansa in 2016. Johnson came up with their name, combining his middle name "Jae" (short for Jaelon) and "Mansa," after emperor Mansa Musa, leader of the Mali Empire during the 14th century and one of the wealthiest man to ever live.
The North Carolina natives signed an equity distribution deal with Jay-Z's Roc Nation in November 2018. The entertainment company's senior vice president, Lenny Santiago, was on hand when they inked the deal at Jue Lan Kitchen in New York City. Other big names in entertainment at the signing included Power 105.1's DJ Self, actress Bre-Z, "This Is 50's" Jack Thriller, HOT 97's Miabelle, and "Love & Hip Hop New York" reality star Tahiry Jose.
During an exclusive interview with rolling out, Boone and Johnson discussed signing with Roc Nation, their hip-hop inspirations, new music and more.
What led you to music?
Johnson:  I felt like I had a chance to be anything I wanted to become. … I tried rapping, and it's looking bright for me.
Boone: I've always been a big fan of music and the lifestyle. Getting rich is a goal of mine, so I've decided to get there by putting my time and effort [into] the music business.
How do you actively seek inspiration, or does it find you? Or is it a combination of the two?
Johnson: My inspiration is where I'm from — North Carolina. Where I'm from, don't many people make it out. … Then it's my family and being able to say I was the first to do it.
Boone: Providing for myself and my family is motivation and being able to say I made it.
Who are your mentors?
Johnson: My pops is my mentor.
Boone: I look up to my uncle.
Describe your latest project "Fate?" What was the inspiration behind it?
Johnson: We felt like everybody could relate to that track, especially since we're going against the grain. Many people didn't think we would get this far, but look at us now.
Boone: An artist named A-Lex sent the hook, and at first we were like "nah" because it didn't really sound like a track we would do. After a while, it grew on us, and we knew it could be big. It had a down south feel, but it still had meaning.
Can you explain your distribution deal with Roc Nation?
Johnson: The deal with Roc Nation is an all distribution, 85/15. We were looking for a deal like a No Limit/Cash Money deal from back in the day. We just need some resources.
How would you define your personal brand and sound?
Johnson:  Real hip-hop and spitting bars. I think we created a wave because don't nobody sound like us.
Boone: We're still spitting bars, but we're making it catchy.
What affirmations do you repeat to yourself that contribute to your success?
Johnson: I'm happy, I'm healthy, I'm wealthy, I'm free, and I'm rich.
Boone:  I'm going to win no matter what. I've [come] too far not to.
You recently released a music video for your single "Fate" featuring A-Lex. What new projects are you working on?
Johnson: Our new EP, Yung Kings. [It dropped Friday, Jan. 18, 2019.] … We are in the studio cooking up, trying to making hits. I feel like the albums will create themselves.
Keep up with Jae Mansa on social media.
Twitter: @RealJaeMansa
Instagram: @OfficialJaeMansa
Facebook: @OfficialJaeMansa