The Atlanta Hawks hosted several events to honor the life and work the Rev. Dr. Martin Luther King Jr., including unveiling a brand-new outdoor community basketball court at Selena S. Butler Park, adjacent to the Martin Luther King Jr. Recreation and Aquatic Center near downtown Atlanta.
Painted black and gold, the newly designed court pays homage to the late civil rights leader and the 50th anniversary of the Atlanta Hawks franchise. 
Atlanta Mayor Keisha Lance Bottoms was joined on Jan. 17, 2019, at the unveiling ceremony for the new community court by members of the Hawks franchise, including owner Tony Ressler, CEO Steve Koonin, coach Lloyd Pierce and starting point guard Trae Young. "Dr. King's legacy is one of service, selflessness and universal human dignity," Bottoms said.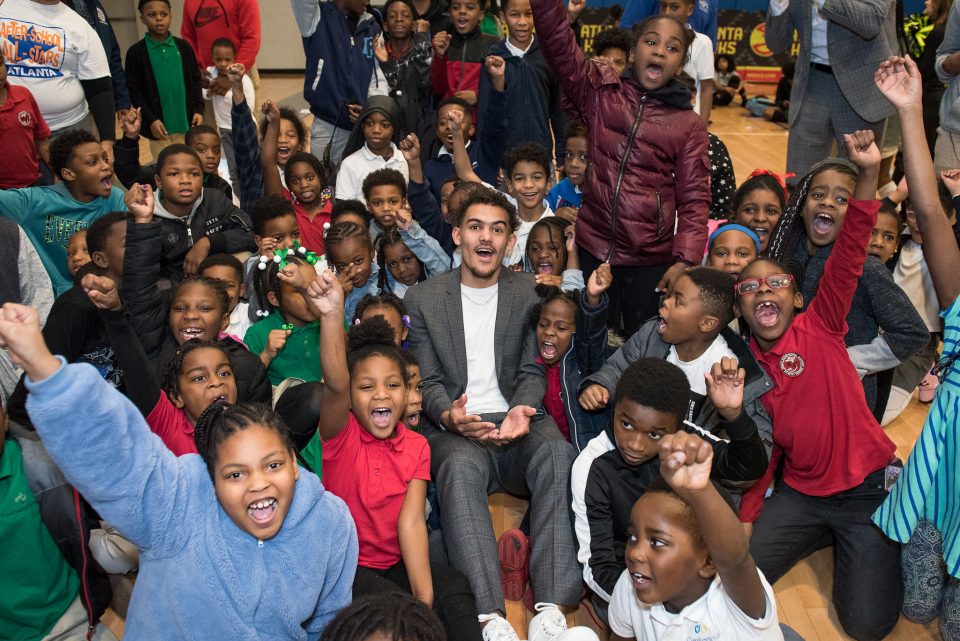 King's youngest daughter, Dr. Bernice King, was also in attendance and spoke about her father's impact on the community. She even joked that while the civil rights giant may have been short in stature, he also was surprisingly athletic.
King participated with other dignitaries in the official ribbon-cutting to open the new court. "No matter if you have to crawl or slowly walk in life, you have to continue to move forward," she said.
Cameron Austin, an Atlanta-area youth who attended the event, shared a poem to honor Martin Luther King Jr.
"He was not searching for fortune or fame. People knew his worth by his powerful name. When he was around everyone felt safe. He cared for us all no matter the color or race," Austin said.
Several local middle schools also attended the ceremony and had the opportunity to meet Bottoms and Young. Members of Dr. King's fraternity, Alpha Phi Alpha from Morehouse College, performed to a standing ovation. 
The Atlanta Hawks are thrilled to be able to give back to the community in this way, Koonin said. "On behalf of our fans and our partners at the city, State Farm and UPS, we can't think of a better way to celebrate Dr. King's legacy than by putting a commemorative 50th-anniversary court next to the MLK Recreation Center."