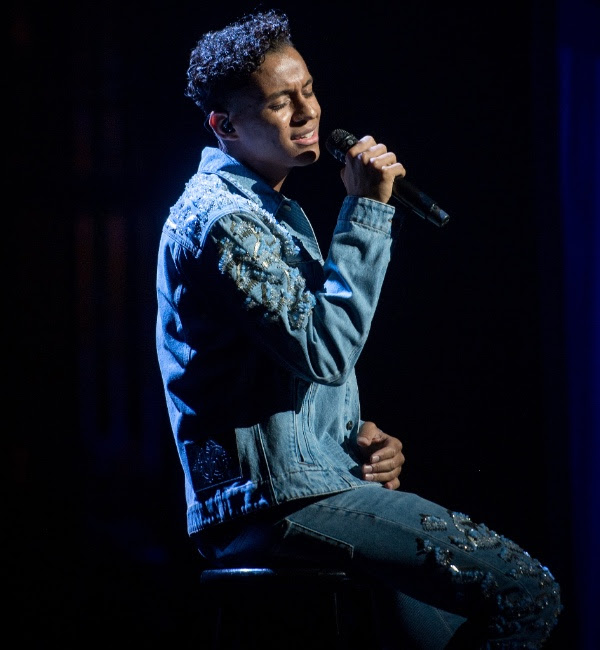 Jaafar Jackson — the son of Jermaine Jackson and nephew of the legendary King of Pop, Michael Jackson — is a 22-year-old rising singer, songwriter and producer from Encino, California.
As a pre-teen, Jaafar grew up with aspirations of being a professional golfer. However, he experienced a change of heart and decided to follow his talented relatives into the Jackson family business: music.
Jackson is set to revolutionize the music industry by partnering with NASGO, a blockchain technology company, to create digital tokens for use in rewarding fans and followers with brand merchandise and early access to upcoming music.
Rolling out recently had the opportunity to speak with Jackson about his music, family legacy and more.
When did you decide to get into music? 
I was 12 or 13. My dad gave my brother and me a song to practice. A Jackson 5 song called "Touch." He never heard my voice before. I sang for him a week later, and he was pretty surprised. Then he started taking me to the studio for me to learn under his wing. It opened up the door for a new passion. I always loved music but never saw myself being an artist. I was so into golf — doing it every day and practicing — that once I started to see the process of creating a song from nothing, it was like opening a whole new door and I loved it.
How was it growing up in such a legendary musical family? Was there any pressure?
There was no pressure. There is a studio at the house. Everyone has their own lane in this family. Nothing was forced upon anyone. Everyone is supportive of everyone being themselves, and if someone wanted to sing, they would help with that. When I had a passion for golf, my family and dad would take me to the course every day.
When did you first realize your family's importance?
The first time I realized my family's importance was in New York for the 30th anniversary of Michael Jackson's solo debut at Madison Square Garden. I was 5 or 6 years old and being backstage and seeing the fans and performers there for my uncle, I realized the impact my family has on music.
What is your fondest Michael Jackson memory?
Going on the rides at Neverland Ranch was great as a kid. Seeing the creativity and artwork there was amazing. Playing hide-and-go-seek. Just having a good time.
Describe your style of music.
I create music to give people chills. When you listen to it, it touches you. It moves you. I'm experimenting with up-tempo, funk, dance and ballad. I looked up to artists like Johnny Mathis vocally. Sam Cooke. I love Bruno Mars, Childish Gambino, Kendrick Lamar.
Who was the biggest musical influence in your family?
The Jackson 5. Their Triumph and Victory albums. "Heartbreak Hotel" is one of my favorite songs by them. They've all had huge impacts on my life. My aunt Janet, too, of course. My father. He has been there every step of the way supporting me and giving me all the tools I need.