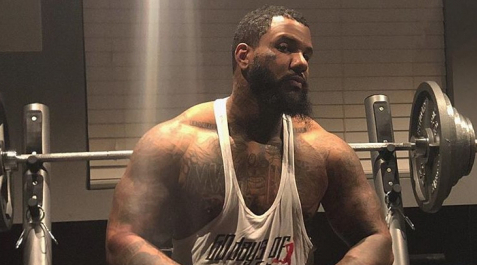 The Game decided to share details about an alleged sexual encounter he had with Kim Kardashian. During a listening event for his latest album, it was revealed that the Compton-based rapper had an explicit lyric in which he referenced brutal sex with the reality star.
"I held Kim Kardashian by her throat, n—-. I made her swallow my kids until she choke, n—- / I should apologize cause 'Ye is my folks, n—-," The Game rapped.
After the video leaked, it soon went viral online, and The Game has caught flack for a lyric many view as disrespectful.
I dont like how "The Game" disrespected Kim K. He have a problem with Kanye so he should have handle his issue with Kanye like a man. I just hate how men think it's ok to disrespect women. Kim Kardashian is a mother of 3 children now. She deserve some respect

— King Ali (@KingRemyMa) January 25, 2019
The game hasn't got anything to talk about so he's pulling out the Kim Kardashian card lol

— Ruthless (@Ruthisback357) January 25, 2019
The Game is so lame for brining up @KimKardashian name in his new track. I don't stan for Kim or anything like that, but it's the facts. This woman literally minds her business while ppl keep her name in their mouth. Lame.

— Gabrielle. (@CosmikIntellect) January 25, 2019
Nothing I believe, there's a story out about The Game, who has a song detailing his "encounters" with Kim Kardashian, and we just speaking on it. Apparently, its rumored to be the Game lashing out at Ye for his recent support to the waste of matter at 1600 Pennsylvania Ave, so…

— Lastrellpoet (@Lastrellpoet) January 25, 2019
And it's so funny cuz u think the game hasn't had sex with hundreds of women in his life? But it's suchhhhh a joke for Kim Kardashian to have slept with him? Some of u just hate women n that's all

— aman (@honeymoonbbe) January 25, 2019
The Game responded on his Instagram by posting, "I said, what I said."