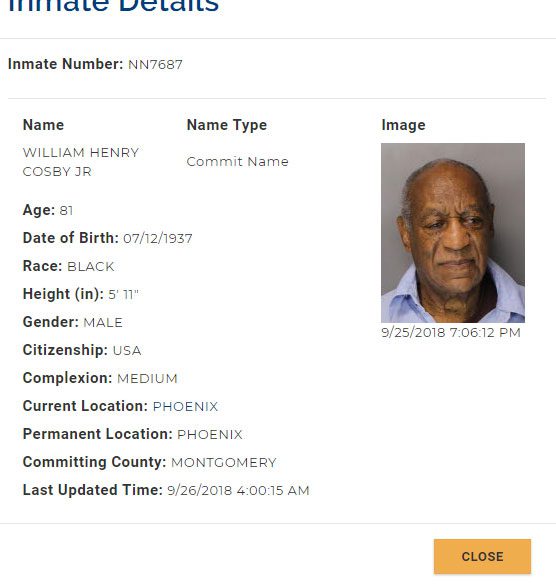 In September 2018, comedy legend Bill Cosby began serving a three- to 10-year sentence after being convicted of three counts of aggravated indecent assault. Cosby drugged and had sex with former Temple University employee, Andrea Constand, at his Philadelphia mansion. The case saw dozens of women come forward with similar claims.
He had been housed in a single cell in the infirmary section of SCI Phoenix in Pennsylvania as he was being assessed by prison officials. Now that the assessment is over, Cosby is being forced to mingle with other prisoners in the general population.
This week, prison officials announced that Cosby — inmate NN7687 — was placed among fellow inmates after spending four months in a special cell near the prison infirmary. The move caught his spokesperson by surprise and initially was denied.
Andrew Wyatt stated to CNN on Thursday, Feb. 8, 2019, "He made it clear that he's not in general population, but has contact with a trustee that guides him around. He does not eat in the area with other residents; he does not have a cell-mate and he does not exercise with other residents. Thus meaning that Mr. Cosby is not in general population, because that would be detrimental to his safety and security, due to his blindness."
But Pennsylvania Department of Corrections Spokesperson Amy Worden felt compelled to correct Wyatt's statements. Wordon told the Associated Press that Wyatt misunderstood Cosby's situation and that the comedian is in fact with the general population of the prison. The cells where Cosby is being held consist of two stories that surround a "day room" area with a TV and tables for inmates to interact with one another. Because Cosby is legally blind and has trouble walking, he has been assigned inmates to help him move around in the facility.
So far there have been no reported issues with Cosby, who is classified by the state as a sexually violent predator. There are also no reports involving other prisoners he interacts with on a daily basis. As for his life behind bars, his spokesperson stated that Cosby has not been visited by any family members since being incarcerated. Wyatt has stated that Cosby does not want a visit to turn into a media circus if his wife Camille or daughters come to see him.