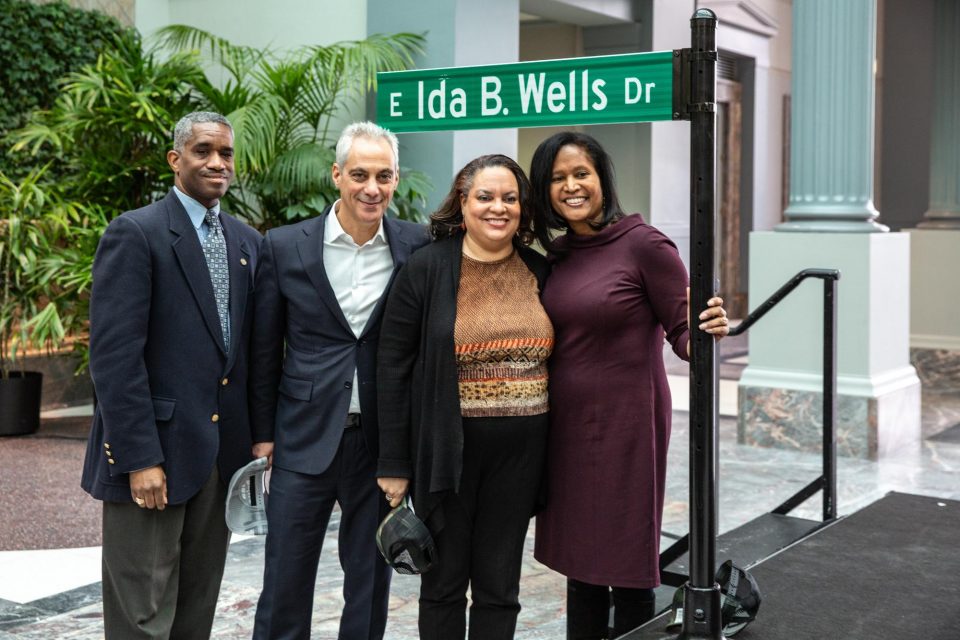 Ida B. Wells represents the strength and resolve of Black women in a way that can be seen in the likes of Tamika Mallory and Angela Rye. As an activist, she fought for equality and against injustice. As a journalist, she documented incidences of inequality and injustice for the world to see.
Wells' life led her from Mississippi to Chicago. Her legacy resonates throughout the city, and recently a street was named in her honor. In fact, it marks the first time in Chicago's history that a major downtown street has been named after a Black woman.
Congress Parkway, a major east-west artery, was renamed Ida B. Wells Drive. It stretches from Grant Park west to the entrance to the Eisenhower Expressway.
The street-naming ceremony for Ida B. Wells Drive was held at Harold Washington Library. (Photo credit: Phillip Dembinski, Columbia College Chicago)Michelle Duster, Wells' great-granddaughter, was present for the unveiling of Ida B. Wells Drive and moved that the city of Chicago would recognize her great-grandmother in this way.
"It means a lot," Duster said. "Not only is this a great honor to the work, life and legacy of my great-grandmother, but it also is an affirmation for African American women. We have been in this country for 400 years and made huge contributions to our society. In the 21st century, it is time for us to be recognized and be a source of inspiration for all."