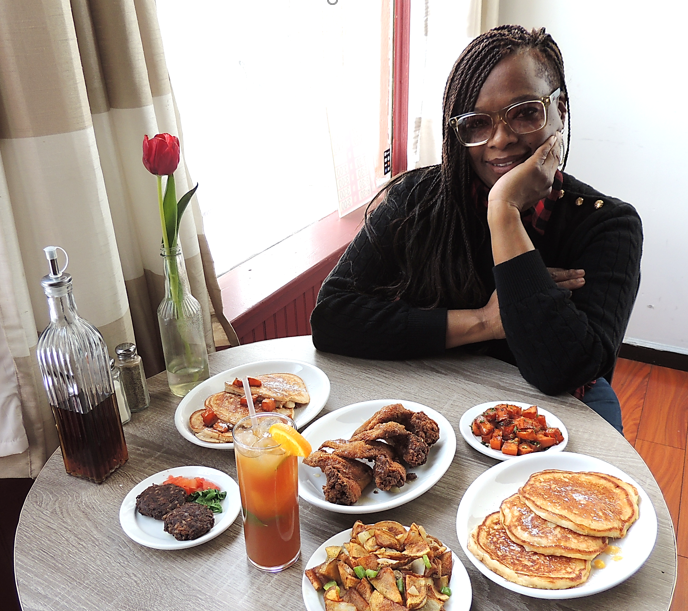 If home is where the heart is, then you'll find yourself at Le Petit Dejeuner restaurant. From the unique recipes, to the TV show-themed dishes, to the attentive staff you can always find nearby, family is the main ingredient, and Le Petit Dejeuner always serves family-style love on a plate.
Owner Tina Motley always wanted to open a breakfast restaurant. After being a wife and mother of three, she decided to reinvent herself and the way Detroiters eat breakfast.
Rolling out recently caught up with the "Queen of Pancakes," as Motley is affectionately called, to talk everything Le Petit Dejeuner.
How would you best explain the type of food you serve?
All of our breakfast is made with love. We don't use frozen food, and everything is made from scratch. Even though it may take longer to get your food, we don't compromise on quality. We'd rather produce quality, fresh food and that's what we hope to be known for.
Explain your concept of family-style breakfast dining and how it influences the creativity of your menu.
Breakfast has always been a huge meal in my family. It was the meal we could always eat together. … While creating my business plan, I thought of serving food family style. Everyone gets to taste a smaller portion of a variety of items for a reasonable price. As for the names of the menu items, Two Can Play That Game is my favorite movie, and I loved [the TV series] "Living Single" as well. When I considered naming the items, I wanted them to be reflective of the warmth and love I felt while growing up. My favorite TV shows and movies were, in a way, a part of my family, too.
What is a menu item that people have to try at least once?
The corn pancakes are amazing. I call them magical because when you eat them, they take you to a good place. People say the pancakes remind them of home and of being in the South or country. I would say 98 percent of people that have them absolutely love them.
How do you come up with unique twists on traditional breakfast items, like your creamy corn pancakes?
My favorite aunt, who passed away, made these creamy corn pancakes all the time. It wasn't until high school that I realized everyone wasn't eating pancakes that way. I invited a couple of friends to my aunt's house for the holiday, and they were completely surprised they were chewing on corn in a pancake. My aunt's passing was the push I needed to finally serve her cream corn pancakes to everyone.
What do you want people to savor about the Le Petit Dejeuner dining experience?
I want people to leave here knowing that everything eaten was made with love and that we don't skimp on anything. Everything is quality, prepared fresh and made to order. We appreciate everyone's support, and we're constantly striving to be more efficient for you.
Le Petit Dejeuner is at 6470 East Jefferson Ave., between Belle Isle and the Rivertown District.