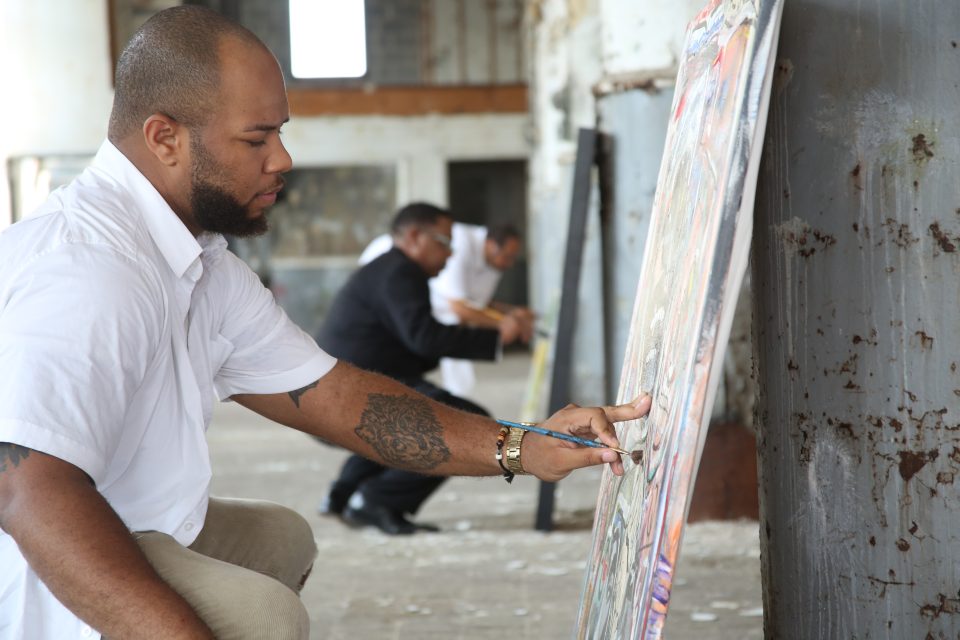 Blake Lenoir is a young Black contemporary artist who is quickly building a name for himself in the art world. Lenoir has had a passion for art ever since he was a child growing up in Chicago's Auburn Gresham neighborhood. His talent and drive have taken him farther in his career than he could have ever imagined.
Rolling out caught up with Lenoir to discuss where his love for art began and how he has become an artist to watch in a short time.
How did you develop your craft as an artist?
It was a coping mechanism at first. It was also entertainment for me as well. I wasn't one of those kids who liked to jump around and get into trouble. I was a more of a reclusive kid, and I just sat back and drew. I didn't get any formal training until college. Even then, I slacked off because I thought I was better than my teachers. I didn't start painting until November 2017.
Tell me about your art style, Propaganda Contemporary.
I'm a big fan of the propaganda posters from the war and Shepard Fairey's use of it for the Obey clothing line. I started my work by picking a focal point, like a celebrity, and putting a twist on it. With Chance the Rapper, I had a painting called "Chance to Grow" where I drew HGTV on top. People were questioning how they coincided. The message was about getting a chance to grow. I stand by the statement that I'm not a picture painter. I don't paint anything without a message behind it for our people to learn from.
What did it mean to you to be selected for this year's Viridian Artists "30 Under 30" Exhibition in New York City?
The moment I found out about it it was one of the most exhilarating things in the world because I've actually put this in my head. None of this is a surprise to me because I made sure I was gonna put in enough work to get to this point. My first painting gig was a live painting session at The Godfrey Hotel in Chicago. I wasn't going to settle for less. Like the guys who play basketball and say "ball is life?" For me, art is life.
What was it like for you to exhibit Art Basel in Miami?
It was like a milestone. You're showing amongst the best, which means you finally put yourself around the people you've been trying to be around your entire life. To hear from esteem collectors mouths that "you're on your way" was like displaying your work on the biggest refrigerator you could put your artwork on.