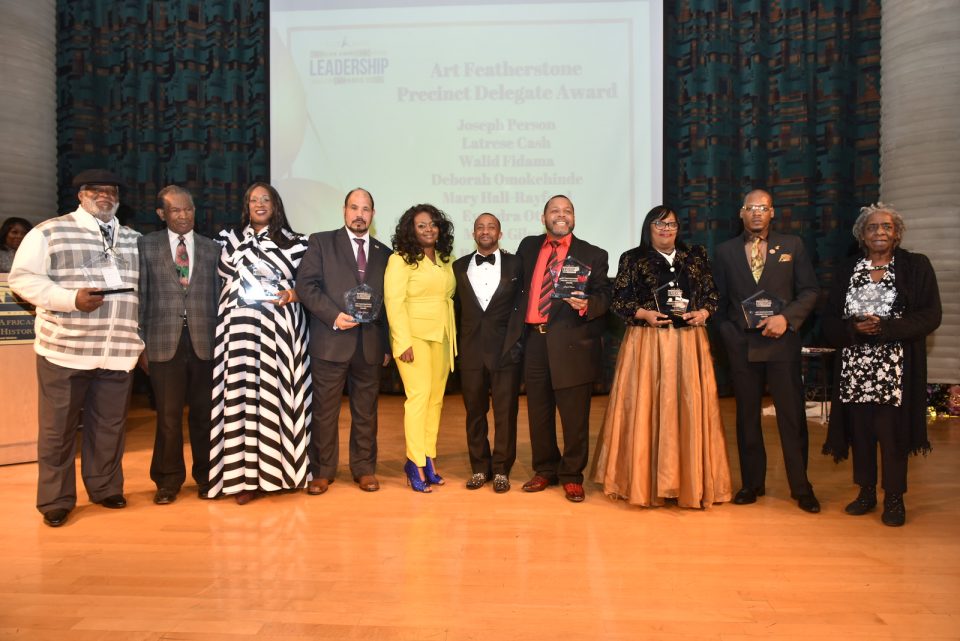 The African American Leadership Awards celebrated six years of recognizing Black excellence at the prestigious Charles H. Wright Museum of African American history in Detroit. The momentous occasion, held Friday, Feb. 22, 2019, began as a way to pull together African American community leaders, business leaders and elected officials from around the state of Michigan on issues affecting everyone. The awards gala honored the crowning achievements of Black leaders throughout Michigan in categories such as business, politics, community, philanthropy, faith and religion. More than 200 honorees and their supporters gathered in the spirit of celebration and unity.
"This is not a Detroit thing. It's an all of us thing," African American Leadership Awards keynote speaker and Money Matters for Youth founder Gail Perry-Mason told the captivated audience.
WXYZ (Channel 7) editorial and public affairs director Chuck Stokes and Detroit Free Press columnist Rochelle Riley served as co-hosts for the evening's festivities, which included a live art auction, a musical performance and moving tributes to posthumous award recipients. Adopted daughters of the late Rev. Greg Roberts introduced a heartfelt memorial video that embodied Roberts' kind and giving spirit.
As one of the winners of the Rev. Greg Roberts Faith and Leadership award, the Rev. Christian Adam is an example of the kind of true leadership Roberts exemplified. His work in criminal justice touches many lives in the community he serves.
State Rep. Kyra Bolden fights for criminal justice reform every day. The Emerging Black Leader [under 35] Award winner praised the ceremony on its mission to inspire and salute the accomplishments of local Black leaders in Michigan.
"This award means a lot [to me personally], especially knowing that our Lt. Gov. Garlin Gilchrist won last year," Bolden stated. "It's an amazing feeling to be recognized by your community for the hard work you put in day in and day out. There's really nothing like this presently happening where we can honor ourselves … and to be a  part of Black history is so amazing."
African American Leadership Awards 2019 award winners (partial list)
Rev. Greg Roberts Faith and Leadership award                                                                       The Rev. Christian Adam                                                                                                                     Kevin Harris
John Conyers Black Legislator of the Year award
State Rep. Leslie Love
Labor Leader of the Year award
Rufus Hamilton

Business Leader of the Year award
Mattie Jordan Woods
Honorable Sheila Johnson Emerging Black Leader award
State Rep. Kyra Bolden  

Bruce Feaster Staff Leader award
Coffiann Hawthorne, Esq.
Javion Johnson
Great Expectation award
Pontiac City Councilwoman Kermit Williams
Congresswoman Brenda Lawrence Woman of the Year award
Wayne County Commissioner Alisha Bell
Leadership in Education award 
Stephen McGee
Laurie Clark Horton
Arthur Featherstone Precinct Delegate award 
Joseph Person
Latrese Cash
Walid Fidama
Deborah Omokehinde
Mary Hall Rayford
Eyandra Otis
Maria Gilson
Ronnie Mixon

Viola Liuzzo award
Genessee County Clerk John J Gleason
Learn more about the history of the Black Leadership Awards and past winners by visiting www.miblackleader.com