[cigallery]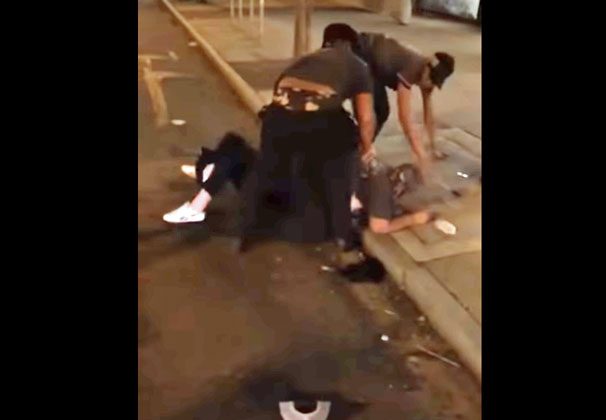 Customers at a Philadelphia Taco Bell were hungry and frustrated because orders were taking too long. But no one was more frustrated than the six crew members on duty that was overwhelmed with online orders and customers who were hurling insults. It got so out of control that a man and his girlfriend were beaten by six members of the crew on duty that night.
According to a local CBS news affiliate, the restaurant was being overwhelmed with orders from the food delivery app GrubHub. Workers were allegedly told that the online orders took precedence over all other orders at the location. Bystander, Bryan Reese came to the restaurant during the order-chaos to pick up a friend and apparently got involved in the verbal exchange with the crew.
Soon the incident escalated and Reese's friend, who had just eaten a cheese "gordita," took out his phone and recorded the action. In a video that was released, a Taco Bell worker is heard to say "you got the right mutha f—  right here" and follows Reese outside of the restaurant. Then, five other workers come from behind the counter and proceed to serve a taco beat down. Female workers are seen punching and kicking Reese, as a male worker holds him down. After the Taco Bell workers finish with Reese, they then attacked his girlfriend.
Surprisingly, this "ride or die" taco crew was still on duty during another fight. On March 3, 2019, a delivery driver came to the location for an order pick up. Once again the Taco Bell workers were frustrated with the number of orders and turned on the driver. According to the Philadelphia Inquirer, the Black driver was told by the all Black crew "F— n—–, we ain't filling your m—– F—- order. Call GrubHub and cancel."
When the driver began to hurl back insults, at least two workers came from behind the counter and assaulted him. In response to the assaults, Taco Bell issued the following statement:
"We're shocked and disappointed to see this situation; we and our franchisees do not tolerate this behavior. The franchisee who owns and operates this location is retraining its staff, and all team members involved have been terminated."
Reese stated that when he initially reached out to Taco Bell, he was offered a $20 gift card for his trouble. Currently, the Philadelphia police are investigating the beatings and will proceed with charges if warranted.
The video of the Taco Bell beat down can be seen below: