The late legendary singer Michael Jackson's niece, Brandi Jackson, is blasting Wade Robson, who claim the King of Pop sexually abused him in the explosive HBO docuseries Leaving Neverland.
Brandi Jackson has called Robson a compulsive and chronic liar who is addicted to fame and relevance. She said she dated Robson throughout her teen years and said Michael Jackson could not have possibly abused him since they were dating during the time period. Brandi Jackson also said MJ even set up Robson with his niece.
This is vastly important when you understand that Robson said in the film MJ tried to get him to hate women.
As rolling out has previously reported, Robson said he was the subject of horrific sexual abuse by the pop icon for seven years.
According to Mediate.com, who had the exclusive interview with Brandi Jackson, she said Robson cheated on her with many women, including former superstar Britney Spears, and allegedly was the reason for the pop star's epic breakup with Justin Timberlake back in the 1990s.
Some media members, particularly Mediate.com, were shocked that HBO nor the makers of Leaving Neverland bothered to put Brandi Jackson's perspective in the movie, and, inexplicably, didn't even at least mention that Brandi Jackson played such a major role in Robson's life.
Brandi Jackson mentioned that she dated Robson back in February when she learned that Leaving Neverland was going to air. Incidentally, Brandi Jackson and her cousin Taj Jackson were going to be interviewed by "Good Morning America" to refute the accusers in Leaving Neverland but it was canceled at the very last minute, according to Mediate.com.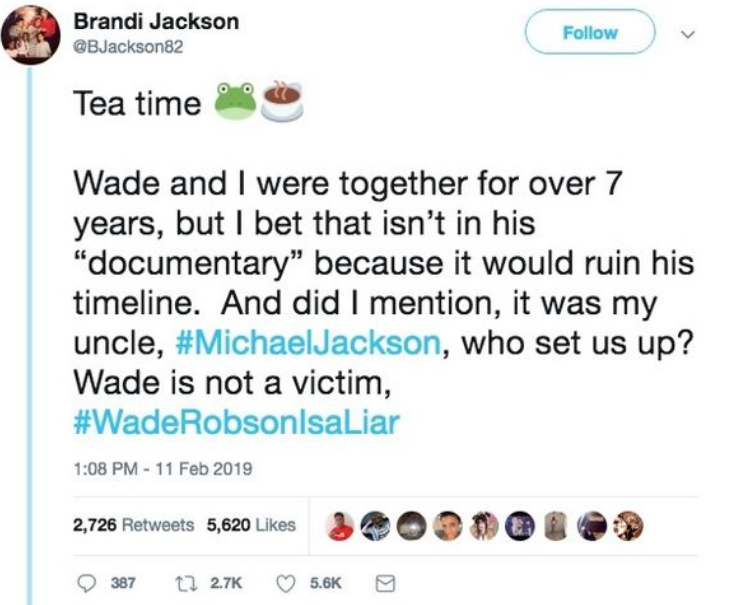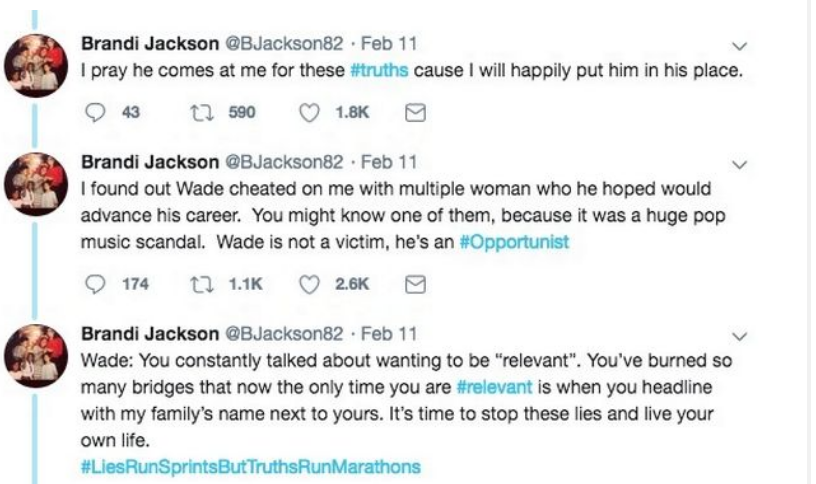 Taj Jackson, MJ's nephew and son of Tito Jackson, responded to Brandi Jackson's tweet with this cynical outlook: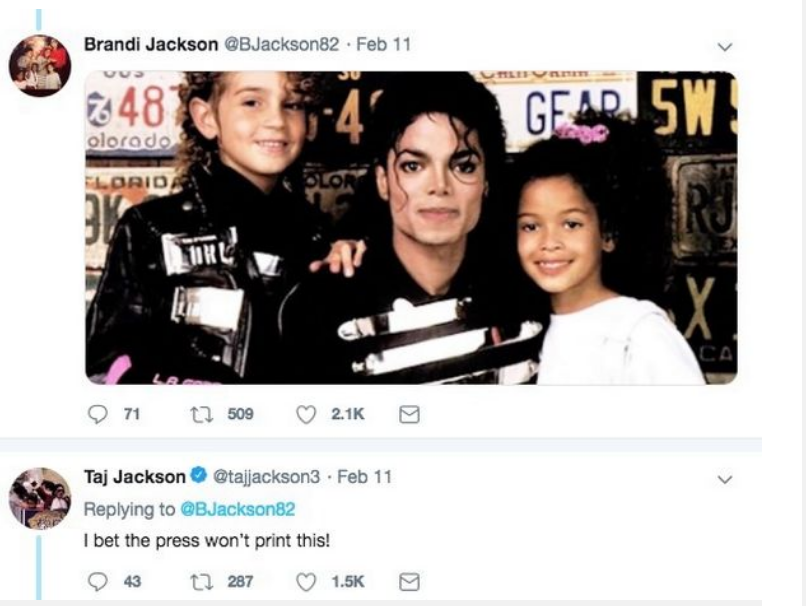 Taj Jackson also said Michael Jackson set up Robson with Brandi Jackson, which "throws the whole narrative of the film off."
"I think it's ridiculous especially since my uncle Michael was the one that basically brought them together. And so it throws off the whole narrative of Michael Jackson only wanting him [Wade] for himself or teaching him to hate women."
Taj Jackson added: "He dated my cousin for over seven years and it's really interesting because they left that out of the story – and he dated her during the time period that he's getting supposedly molested by my uncle Michael.
"It's something they've conveniently left out of the documentary because it coincides with Wade saying [the abuse happened] from the age of seven to 14. But he was dating Brandi from nine to 18."
What do you make of this latest revelation? Does it change your mind about Michael Jackson?