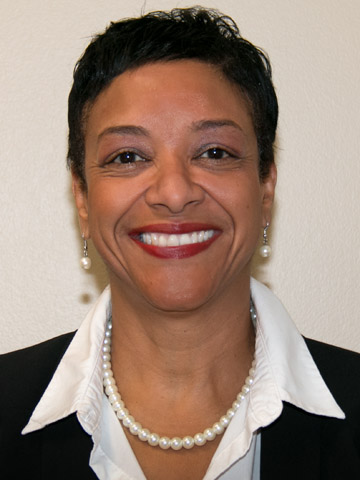 Nicole Roebuck has been an HIV/AIDS activist for 20 years and currently serves as executive director for AID Atlanta. Prior to this role, she worked as a social worker in St. Thomas, U.S. Virgin Islands, and in East Harlem, New York.
We asked Roebuck about her leadership qualities.
As a Black woman, what do you consider your superpower to be? 
It's the power of multitasking. Yeah, I juggle a lot of hats. Mother, wife, ED [executive director], friend, churchgoer, dance ministry leader, council member.
What key skills or qualities make you unique as an African American female leader?
I think my Caribbean heritage makes me unique. … I really didn't experience a whole lot of the racism and those biases [and] prejudices growing [up], but when I …  got to the States, to the mainland for school, then I kind of had to adjust to some of that stuff, which was really weird and foreign to me. I don't have the same kind of reaction as maybe people who are from the mainland in terms of racial relationships.
Why is it important for women of color to work in leadership roles and decision-making capacities?
I think that we have a unique perspective in terms of being members of historically disadvantaged groups. So one, as a woman, and two, as an African American woman, I think we kind of have to prove … more than other types of people. I think that puts a different kind of drive and motivation within us. We have to juggle a lot of tasks and therefore have to be organized, have to be astute, have to be insightful, pick up on things that … nobody else is kind of paying attention to.
If you could thank any Black woman historymaker for her contributions to society, who would it be and why?
There are lots. I'm going to say, probably, [Michelle] Obama because I just read her book, Becoming. I just like how she leads, just from a personal standpoint. She's very down-to-earth but yet gets the job done. She's supportive of her husband. She's shown herself to be a true figure of leadership for, I think, all races.
As a successful woman in business, what is your greatest or proudest achievement?
I don't really look at it that way. I see things every day as an opportunity to achieve something, whether it's big or little. And then, when you kind of accumulate it all across all your years, it becomes big or it feels impactful. So, I really can't think of one thing. I do think that just being consistent, being a servant leader, being somebody who is truly here for the benefit of other people, is probably my greatest accomplishment.