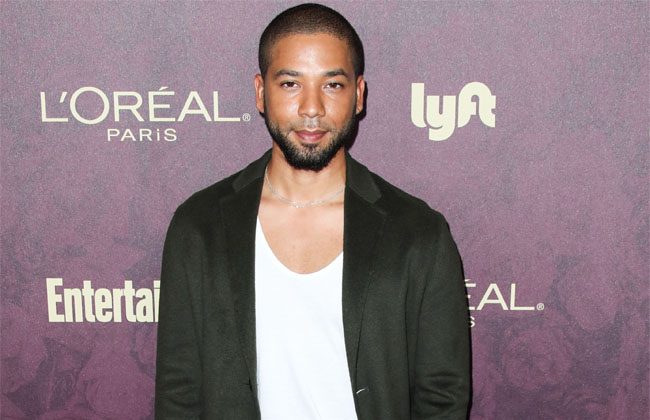 And the entire sociopolitical world exhaled deeply. Jussie Smollett did not win an award after all. One can only imagine had Smollett been victorious, the inferno of rage that would have been ignited nationwide — especially at the White House and Chicago City Hall.
The "Empire" actor was the subject of furious discussion, debate and controversy because he was nominated for Outstanding Supporting Actor at the 2019 NAACP Image Awards for his role on the hit Fox show. He got the nod well in advance of the whirlwind activities in Chicago where the 36-year-old was indicted for allegedly staging a hoax hate-crime beatdown. All 16 felony counts eventually were dropped, but the backlash has been ferocious and multipronged.
Smollett engendered high anticipation that he would be attending the annual awards show in Los Angeles after paparazzi spotted him landing at LAX this week after he was "exonerated" of all charges.
However, Smollett lost to "Grey's Anatomy" heartthrob Jessie Williams during the untelevised portion of the awards on Friday evening March 29, 2019, the New York Post reports.
Page Six also said that Smollett did not bother to show up for the dinner, either.
Not that Smollett did not have major backers and supporters. Image Awards host Anthony Anderson told Variety magazine that he hoped Smollett would take home the big prize.
The remainder of the awards will be televised at the Dolby Theater in suburban Hollywood on Saturday, March 30. Smollett has not indicated if he will be in attendance for the televised portion of the gala. But Anderson reportedly said he "hoped to see" him there.
In related news, "Empire" suffered the worst ratings in the show's five-year history this past Wednesday when only 4 million viewers tuned in to watch the season finale. Those would be great numbers for any other urban-based show, but you have to compare that with the 16.5 million who tuned in for the season 1 finale of "Empire" in 2015.
Pop culture pundits believe the show is suffering from the toxic residual effects of Smollett's case being dropped by the Cook County State's Attorney's Office in Chicago.
Worse, Smollett seemed to mock justice and his haters after he was "vindicated," telling his followers that he'd see them during the airing of the show. It went over horribly among pop culture fans.
😉 see y'all Wednesday. #empire #empirefox pic.twitter.com/jQUtsHcQBF

— Empire Writers (@EmpireWriters) March 26, 2019
"You should be ashamed of yourselves," one Twitter user responded, as that fan's tweet received twice as many likes as the original one.
"I think 'Empire' just essentially canceled themselves," another person wrote in response to the Twitter post. "What a suicidal PR stunt."