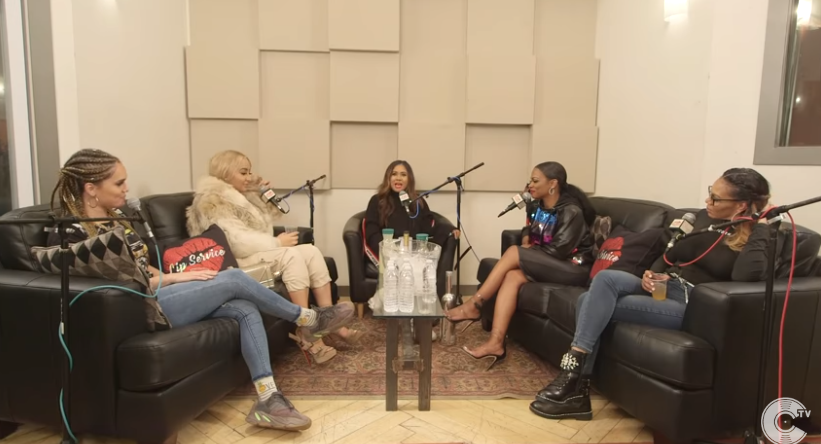 Pop culture is already aware that "Real Housewives of Atlanta" star Kandi Burruss is very comfortable discussing sex. Most also know that the serial entrepreneur has translated the subject of sex into money-making ventures, as she has with her "Kandi Koated Knights" show, her sex toy business Bedroom Kandi, and now with her "Welcome to the Dungeon" national tour.
When Burruss visited Angela Yee's provocative podcast "Lip Service," Burruss discussed her sex "Dungeon" and upcoming tour in May. Eventually, the discussion moved on to the freakiest sexual situation Burruss has ever been involved in.
When Burruss, 42, first sat down for the show, Yee surprisingly admitted that she, too, was accused of having a dungeon, much the way Burruss was.
"At first, I was, like, all angry about it. But then after I thought about it, I said 'turn it into a coin.' And if I'm going to have a dungeon, then it's going to be the best damn dungeon you've ever seen," Burruss said defiantly.
Burruss is taking the "Welcome to the Dungeon" to 12 cities nationwide and promises to "push the limit. We [are] pushing it as far as we can without getting arrested," she promises.
Burruss and Yee definitely pushed against the limits when they discussed the freakiest things they've ever done in the bedroom, with Burruss sheepishly admitting that she had a foursome. Yee and Burruss also touch upon the sex acts that you may be surprised they do not enjoy or will never try.
The juicy sex talk begins at about the 11-minute mark. The women begin discussing the freakiest things they've ever done — and want to do — at about the 41-minute mark.
For those who did not see nor attend Burruss' "Welcome to the Dungeon" event in Atlanta, check out the YouTube video below: