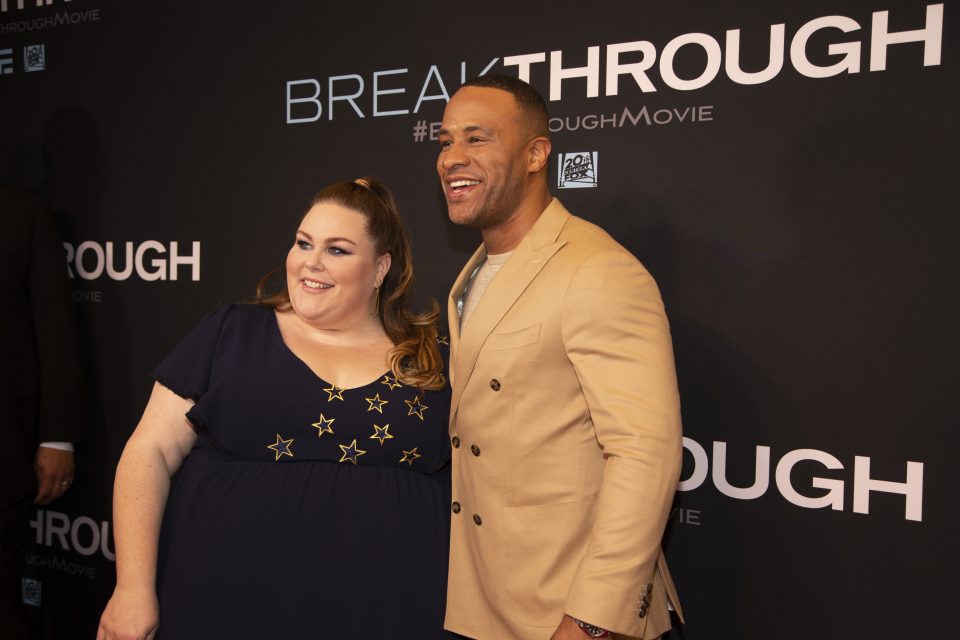 DeVon Franklin and Chrissy Metz beamed with pride on the red carpet in Dallas for a special advance screening of their film Breakthrough, earlier this month.
Breakthrough is based on the incredible true story of Joyce Smith (Metz), whose adopted son John (Marcel Ruiz) falls through an icy Missouri lake. As John lies lifeless, Smith refuses to give up hope.
Metz said it was in large part her faith that inspired her to take on her first movie role.
"DeVon always says there [are] so many things that we can't see, but we know and that's really what faith [is], and for me that always continues … that God has the bigger picture. I definitely take that with me everywhere I go. I think anything that scares us is important to do," said Metz.
Franklin, known for his films, Miracles From Heaven and Heaven Is for Real, produced the movie. He spoke with rolling out about Breakthrough and what he hopes to accomplish with the film.
"One of the reasons I wanted to produce Breakthrough is because it puts positivity back into the culture. A lot of times there are negative messages circulating in the culture.
"I can only control what I do, and what I'm doing with the platform that I have is putting positivity, inspiration, motivation, hope and faith into the world to show people there is another way. I do think it's important because there are issues we have to address that require all of our participation," Franklin said.
One of those issues is representation in film. "Representation is very important. We wanted to make sure that the film represented the world that we live in," he said.
A member of the team who helped make the movie a reality is NBA star Stephen Curry, who also executive produced. Breakthrough marks Curry's first foray into movie producing. Together with Curry's business partners, Franklin said he wanted to create an "all-star team" with the movie.
"I pitched it to him, he read the script in a day and came back and said 'I'm in.' And the same way he has an all-star team with the Warriors, I said let's create an all-star team on Breakthrough and it's been fantastic. He's really been able to amplify the message of the film and it's the first film he's producing and lending his name to," said Franklin.
"I've been in Hollywood for 20 years, and this is the third film I've produced. For me, I'm all about let's build it and let's make it," he said.
Breakthrough opens in theaters on April 17. For more information about the movie, visit breakthroughmovie.com.