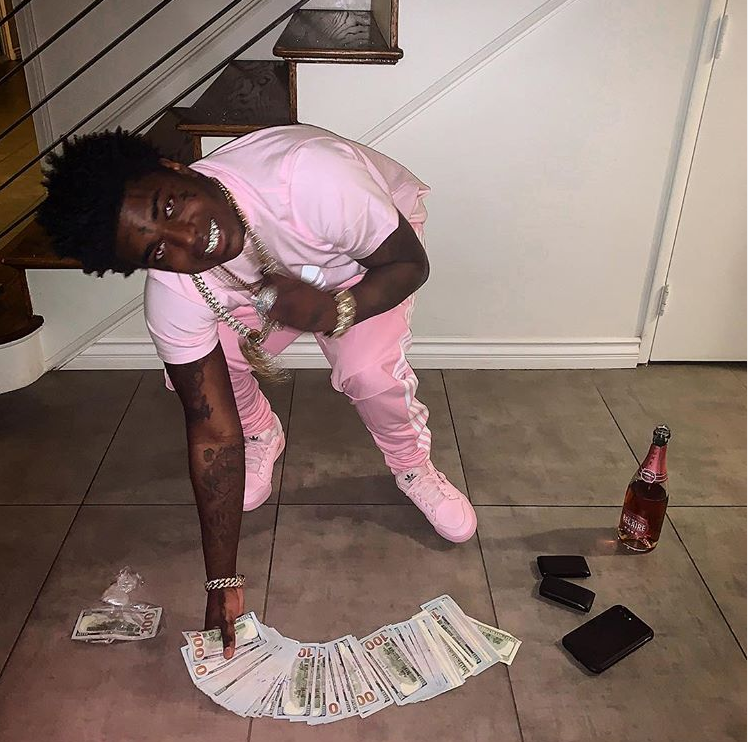 To most pop culture fans, what Kodak Black said about slain rapper Nipsey Hussle's woman Lauren London went way beyond just being tone deaf. Black posted online that at a certain time he will make moves on London, even though she just lost the love of her life. Members of the hip-hop community found it extremely disrespectful and callous.
Black said that he's going to give actress London, most famous for her role in the classic film ATL, about a year to get over her devastation of losing Hussle before he tries to court her.
Hussle, 33, was murdered in broad daylight in front of The Marathon Clothing store that he owned on the corner of Crenshaw Boulevard and Slauson Avenue in South Los Angeles on March 31, 2019. A reputed gang member and aspiring rapper, Eric Holder, 29, has been arrested and charged with Hussle's murder.
Tip and others took extreme umbrage that Kodak, 21, would make these comments about London just after Hussle's murder.
In the IG Live post, KB is shown chilling out with his boys before talking about London. Black, born Dieuson Octave in Pampono Beach, Florida, said this:
"Lauren London that's baby, though. She about to be out here single. She's finna be a whole widow out here. I'll be the best man I can be for her. I'll give her a whole year. She might need a whole year to be crying and s— for [Nipsey]."
He added: "I ain't trying to shoot [my shot] at her. I'm saying, listen. She can do two, three years. I'll try to be like [a] friend if you need to holla or a shoulder to lean on. She can call my line."
https://twitter.com/RapVineyard/status/1114567335715770370?ref_src=twsrc%5Etfw%7Ctwcamp%5Etweetembed%7Ctwterm%5E1114567335715770370&ref_url=https%3A%2F%2Fwww.hotnewhiphop.com%2Fkodak-black-responds-after-ti-calls-him-out-over-lauren-london-comments-news.76596.html
T.I. slammed Black for the disrespectful words toward London in light of her deep sorrow.
"Hey, Kodak Black: You outta pocket, n—-. Fix that s—- —quickly, expeditiously," the hip-hop mogul came at Kodak in an Instagram video. "If I see you, I'ma say it to your face. You outta pocket, n—-. Get your m—–f——' self together."
Undeterred and unrepentant, Kodak dares Tip with the comment, "Or what?"
Kodak wasn't finished. He was so inflamed by Tip's warning that returned to IG Live once again, according to The Shade Room, attempting to clear up his comments and making a direct comment to T.I.
"Man, listen. I said what I said. Y'all tryin' to misconstrue what I said […] I don't give f— what y'all talkin' about," he said. "T.I., man, I don't care. I'm in Georgia right now. "
Turns out that Tip is not alone in his sentiments. According to SOHH.com, rap OG Daz Dillinger said he supports Power 106's decision to ban Black's music for disrespecting Hussle. Justin Credible of Power 106 penned this statement on the radio station's stance: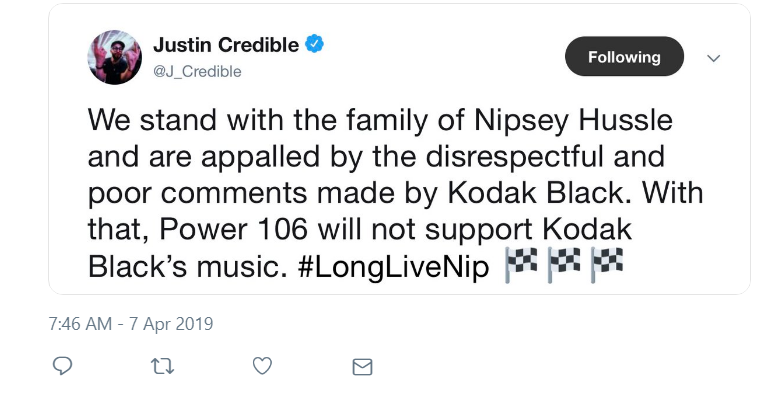 What do you make of Black's words and T.I.'s and Power 106's responses?