Kodak Black bashed and banned by radio stations for disrespecting Lauren London
Kodak Black may be, as they say in hip-hop, doing too much in these streets.
In addition to recent reports that he is facing trial for allegedly raping a teenager, that he got into a fight at a concert and that he engaged in Twitter beefs with rap stars T.I. and The Game, Kodak is also being bashed and banned by some of the most popular and influential radio stations in the country.
On the Left Coast, Power 106 in Los Angeles is banning Kodak Black from its airwaves for the comments he made about Nipsey Hussle's woman, Lauren London, in the wake of the iconic rapper's murder.
On the Right Coast, Power 105.1's flagship show "The Breakfast Club" in New York named Kodak the "Donkey of the Day." Charlamagne Tha God accused KD of exemplifying incivility when the 21-year-old rapper said he'd give London about "a year" to mourn Nipsey Hussle's death before he tries to make a romantic move on her.
Keep in mind that Nipsey was murdered a little more than a week ago in front of The Marathon Clothing store that he owned in South Los Angeles.
DJ Justin Incredible spoke on behalf of the Power 106, tweeting, "We stand with the family of Nipsey Hussle and are appalled by the disrespectful and poor comments made by Kodak Black. With that, Power 106 will not support Kodak Black's music. #LongLiveNip."
The station doubled down with this post on IG:
In addition to these powerful radio stations and shows, other deejays have joined in the wholesale condemnation of Kodak's uncouth behavior. Charlamagne saluted DJ Big Boi and other DJs and radio shows for joining Power 106 in sending Kodak into sonic exile for the foreseeable future.
From TheHubRadio: "To all my born and raised LA native djs love y'all to death but if your (sic) playing Kodak in ur mixes YOUR (sic) WRONG … all my born and raised LA native industry folks you still support Kodak YOUR (sic) WRONG … DO NOT LET A F——- OUTSIDER DISRESPECT NIP LIKE THAT … yes he needs help. And he's boys that just let him talk wreckless like that are all b——!!!" — signed sylvon Marshall A LA NATIVE!!!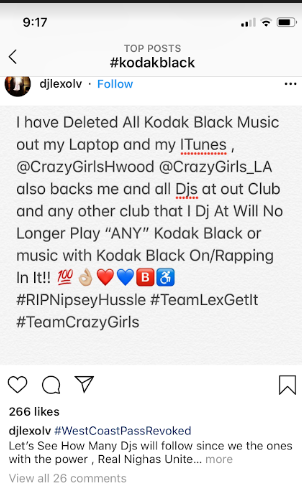 Kodak Black went on Instagram Live over the weekend, talking about his strategy for waiting out London's so-called mourning period.
"Lauren London that's baby, though. She about to be out here single … She's finna be a whole widow out here. I'll be the best man I can be for her. I'll give her a whole year. She might need a whole year to be crying and s— for him."
Kodak later offered what is described as a trifling apology for his comments, saying he was sorry if London felt disrespected but added that he didn't believe he was being disrespectful.