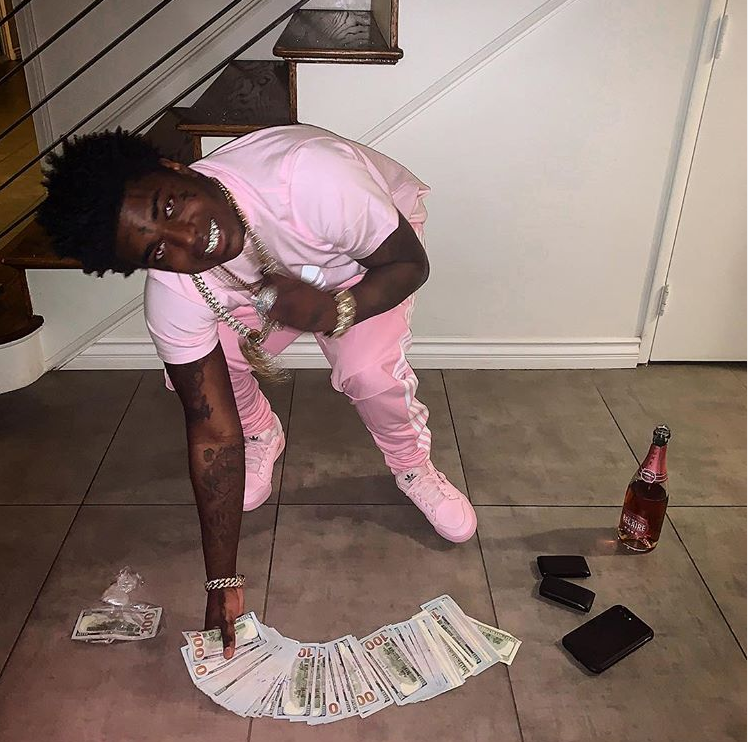 The shocking murder of cultural icon Nipsey Hussle became a watershed moment that not only altered the course of hip-hop and the Hyde Park section of South Los Angeles, but also for the career of uncouth rapper Kodak Black.
When Kodak posted a video stating he would give widower Lauren London a set time to "cry and s—" over Nipsey before he'd move in to become her new man, most of the hip-hop nation was disgusted to the point of gagging. Some were so repulsed by the timing — Nipsey had been dead less than a week when Kodak said this — that they vowed never to play his music again, particularly at the behemoth radio station Power 106 in Los Angeles.
But is this yet another case of delayed disgust within the Black community?
The filter-free Kodak has a well-documented history of making moronic, profane and disgusting statements at regular intervals — receipts that are easily found because Kodak posted most of his thoughts on Instagram. Shouldn't the outrage have come years ago instead of last week?
Here is a brief compilation of Kodak's reservoir of abject imbecility that could have or should have gotten him banned from radio stations prior to the Nipsey Hussle-Lauren London debacle.
Kodak will soon go to trial for allegedly raping a teenage girl: Prior to his ill-advised comments about London, rolling out reported that Kodak faces decades in prison for allegedly raping a South Carolina teen in 2016. The rapper was arrested and released on $100,000 bond. A trial for Kodak — born Dieuson Octave — has yet to be set.
On his aversion to dark-skinned Black women: In 2017, Kodak said on Instagram Live that Keke Palmer was "straight," but that he "don't really like Black girls like that."
Later, Kodak elaborated on his thoughts to Essence: "I can say I like dark-skinned women or I like light-skin women. I can say what I want. I love African American women, but I just don't like my skin complexion. My complexion we too gutter: light-skinned women are more sensitive."
On his electronic sexual harassment and trolling of female rapper Young M.A: Kodak was accused of harassment for making sexually suggestive comments about Young M.A on his song "Pimpin Ain't Eazy":
"I be pullin' out straps on these f— n—-s / I go Young M.A on these dumb b—-es / Like a d-ke, man, you n—-s can't f— with me," and he also raps, "I'm f—in' Young M.A, long as she got a coochie."
After Young M.A spurned his overtures, Kodak questioned her sexual orientation. "How you a girl but don't want your p—- penetrated? How?" He asked. "Don't be mad at me because I want you, baby. Don't be mad at me cuz I want you."
https://www.youtube.com/watch?v=1p6h6xykERM
And that's just the half of it. Charlamagne Tha God touched upon the lateness of Black outrage at Kodak as the radio deejay made the rapper the "Donkey of the Day" this past week. Point being, it should not have taken Kodak to disrespectfully address London for fans to get enraged when the 21-year-old has a history of wretchedness.
Social media debated this very issue. Check out what some have to say on the matter.
https://twitter.com/PushaCeeeeee/status/1114699033363255296?ref_src=twsrc%5Etfw%7Ctwcamp%5Etweetembed%7Ctwterm%5E1114699033363255296&ref_url=https%3A%2F%2Fbossip.com%2F1718461%2Ftaking-out-the-trash-lint-filter-faced-kodak-black-is-finally-getting-canceled-for-his-lauren-london-comments-but-heres-the-problem%2F
Really wish y'all would've protected Young MA the same way y'all protecting Lauren London from Kodak Black

— sincerrly, ur dyke in christ (@jdb1740) April 6, 2019
https://twitter.com/Coledagger/status/1114704733325885441?ref_src=twsrc%5Etfw%7Ctwcamp%5Etweetembed%7Ctwterm%5E1114704733325885441&ref_url=https%3A%2F%2Fbossip.com%2F1718461%2Ftaking-out-the-trash-lint-filter-faced-kodak-black-is-finally-getting-canceled-for-his-lauren-london-comments-but-heres-the-problem%2F
Kodak Black's comments about Lauren is a major reason why I'm so sad about Nip being gone. Just look at these clowns the rap industry is left with. Sickening.

— Bean (@xoBeanxo_) April 6, 2019
https://twitter.com/EmproDaBoB/status/1114601861271699456?ref_src=twsrc%5Etfw%7Ctwcamp%5Etweetembed%7Ctwterm%5E1114601861271699456&ref_url=https%3A%2F%2Fbossip.com%2F1718461%2Ftaking-out-the-trash-lint-filter-faced-kodak-black-is-finally-getting-canceled-for-his-lauren-london-comments-but-heres-the-problem%2F
https://twitter.com/BadMissB_Havior/status/1114923643245670400?ref_src=twsrc%5Etfw%7Ctwcamp%5Etweetembed%7Ctwterm%5E1114923643245670400&ref_url=https%3A%2F%2Fbossip.com%2F1718461%2Ftaking-out-the-trash-lint-filter-faced-kodak-black-is-finally-getting-canceled-for-his-lauren-london-comments-but-heres-the-problem%2F
1. Kodak Black's rape charges were public for yrs. His peers stayed silent

2. Men being vocal after his Lauren London comments show women are only cared for bc of their proximity to men as a wife/mother/friend. They responded out of respect to another man, not to her as a woman https://t.co/ROwANuYTea

— Ivie Ani (@ivieani) April 7, 2019