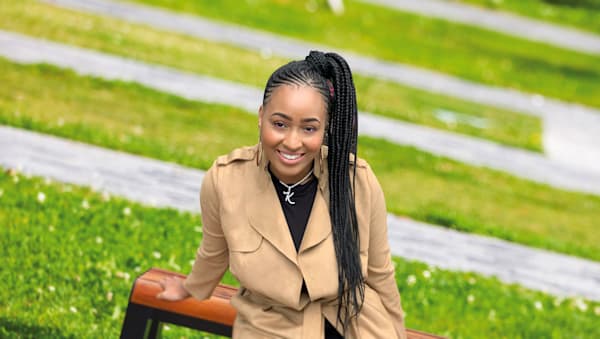 Kayla White, the founder of Kay Sadá Cosmetics, offers sisterhood and empowerment through her makeup brand. The makeup line creator also refers to herself by the moniker Kay Sadá. White balances her role as a successful entrepreneur, wife, and mom who advocates for women to live their best lives while feeling empowered about themselves.
Kay Sadá Cosmetics garners attention online for her unique cosmetics names like "Wifey for Lifey" and "You're the Katch by Lauren Lyrics." Kay Sadá Cosmetics is collaborating with other cosmetic brand owners to champion women's empowerment. 
Tell us about your journey starting your own cosmetic line.
My journey has been tremendous. I've achieved many milestones beyond my wildest dreams. From selling products to my family and friends to selling products across the [country] is, in itself, a huge accomplishment.
The accomplishment I'm most proud of on this journey is that I've been able to come up with a concept unlike any other brands. My company thrives on celebrating women's power first — bringing women together and celebrating their unique beauty. Being able to work with cosmetic pioneers like Gloria Ann, Amber Lewis and Lauren Lyrics who represent the same goals has been a true honor. I was able to take my brand's concept and partner with these powerful women to create products that would, in turn, empower others. You can't ask for more than that in my book.
What advice can you give women who are starting their makeup journey?
Create your own lane. There isn't a blueprint for having a company that represents your personal values and run it your way. Build a company in love, and everything else will fall into place. Lastly, never give in.
Why is sisterhood an important part of Kay Sadá Cosmetics?
I fell in love with the idea of women being their own bosses, making their own money, making their own rules, being happy, and looking like their best selves wearing Kay Sadá Cosmetics. But I also know that we are so much stronger together. We are better when we are rooted in the community and sisterhood. This is why having a sisterhood that is going to uplift and empower all women is important.
How can women who want to make their own cosmetic products team up with Kay Sadá Cosmetics?
Working with women is pivotal to our brand. Our mission is to bring women together through makeup. There are many ways that women can reach us. You can contact us by email at [email protected] We'd be happy to schedule a time for us to talk [about] opportunities.
Is there anything else you would like readers to know?
We are working with our next brand partner to launch something special. We've also teamed up with Bebe J Makeup for their Learn & Sip Makeup Tips Tour where women can learn how to apply their makeup and connect with other women. We've traveled to Detroit, Chicago, Los Angeles, and New York for conferences and events, and we're excited [that] our next stop is Harrisburg, [Pennsylvania].
How can our readers find you?
www.kaysada.com.
Twitter: @KaysadaC
Facebook: Kay Sadá Cosmetics
Instagram: @Kaysadacosmetics
Instagram: @IamKaySada