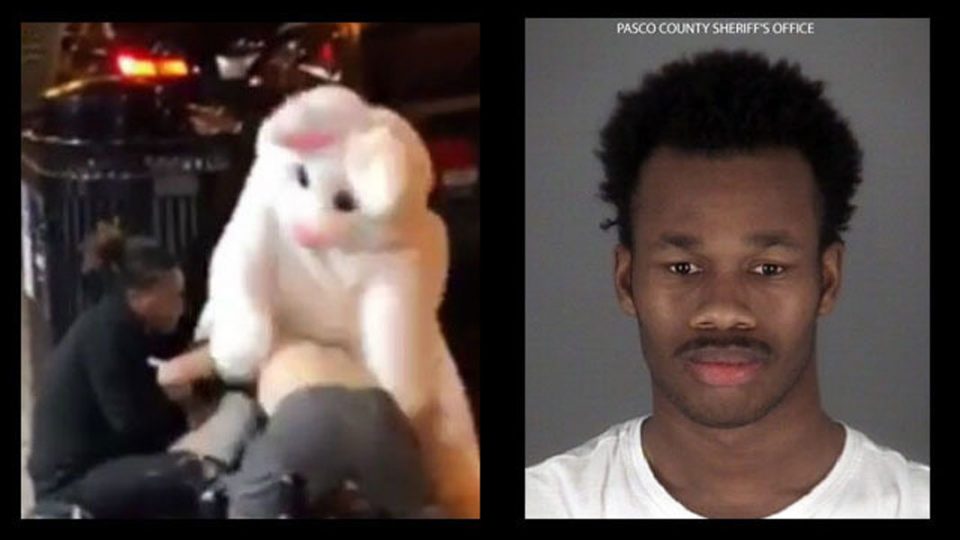 One of the most bizarre videos to surface in 2019 unfolded Easter weekend in Orlando, Florida. The video shows an unidentified Black woman being viciously assaulted by an inebriated White man. As spectators gather and record, only the Easter Bunny came to her rescue.
The Easter Bunny hops into the fight, delivering blows and wrestling with the woman's attacker. The crowd continued to film and shouted "beat his a–" as police arrived on the scene. The responding officer arrested the assailant and the Easter Bunny was hailed as a hero. The man inside that bunny suit has been identified as Antoine McDonald, 20, of Zephyrhills, Florida. However, the news of his good deed also revealed that he has a violent past.
According to a NY Post report, McDonald has a lengthy rap sheet. In January 2017, he was arrested for allegedly committing two armed robberies in Dover, Delaware. He is also the subject of a "non-extraditable failure to appear" warrant for an alleged carjacking in New Brunswick, New Jersey. McDonald fled the state before he could be arrested. While in Florida, he was arrested in January 2019 on charges of having a fraudulent ID and using the name Hudhayfuh Roberts.
There is no word from police on what action law enforcement will take on McDonald considering his past has now been exposed. According to McDonald, he wore the Easter Bunny suit as a joke that night to see a friend perform at a comedy show. In regard to the fight that night, McDonald stated to the media, "I am the type of person to avoid fights by any means necessary, but in that situation, I would fight any day."
The video of the Easter Bunny fight can be viewed below:
https://www.youtube.com/watch?v=bZsWsc48cSc