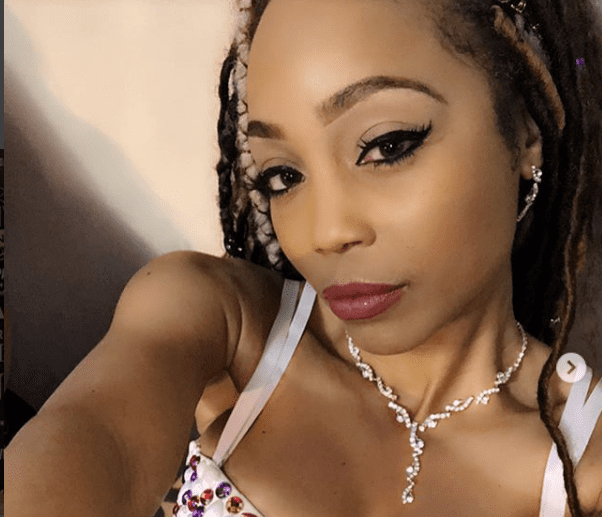 Despite the public pronouncements made by combustible "Real Housewives of Atlanta" star Marlo Hampton, newcomer Shamari DeVoe has not been officially terminated from the reality show.
An inside source conveyed to TheJasmineBrand that irascible Hampton was being a trifle premature when she stated on Instagram that Shamari, New Edition singer Ronnie Devoe's wife, had been let go from the show after just one season.
"It's clear for anybody who has watched this season that Marlo and Shamari's friction this season, kind of developed out of no fault of Shamari's. Like, Shamari wasn't provoking Marlo in any fashion. Marlo developed her own opinion on who Shamari was," the source told TJB.
As previously reported, the two warring factions continued their bitter conflict earlier this month after Hampton got on IG and said that she got her peach snatched from her.
This was in response to an IG post that DeVoe made calling Hampton a fraud and posting a compilation of Hampton's multiple mug shots.
"Shamari, come on now you're peachless," said Hampton. "You're really still up here tweeting tonight? Peachless Shamari still tweeting. Hey girl. Stay a fan, just be a fan now. Be sweet. You're peachless now. They'll give you a peach and snatch it right back won't they?"
Sources connected to RHOA told the entertainment publication that Hampton would not be privy to contract talks between any of the housewives cast members and Bravo producers.
"There is no truth behind that and Marlo for the record, she has been on the show for 6 years and has never been promoted above an extra. Her statements are unfounded and not rooted in anything solid. She has not seen anyone's contracts, not sure if she has a contract of her own but she has not seen any paperwork regarding Shamari DeVoe."
The source stopped short, however, of guaranteeing that DeVoe will return for the upcoming season.
"Shamari had a really good time. The audience has loved her. There have not been any contracts, the contracts are in the works," the source told TheJasmineBrand.