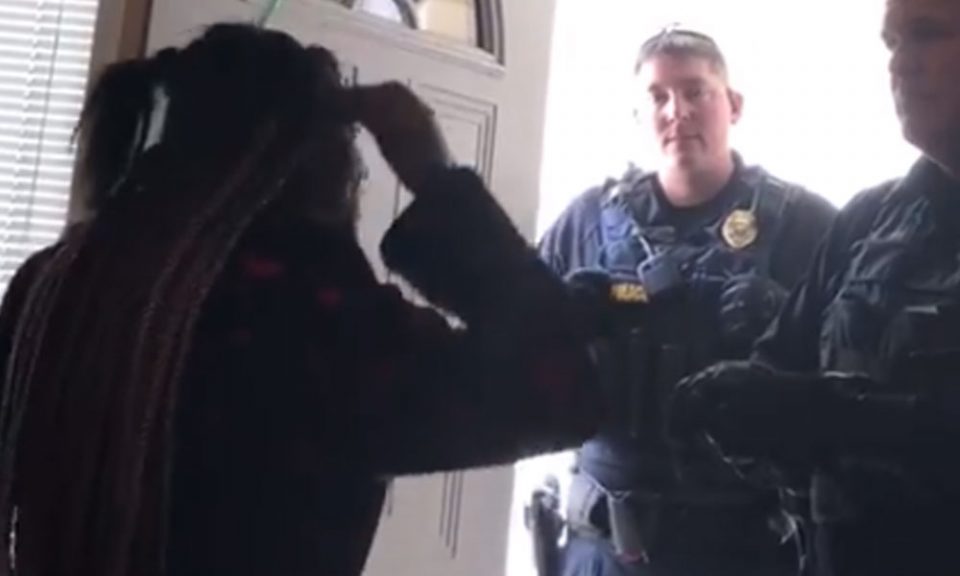 Angela Whitehead of Billings, Montana has become a "shero" to millions of people fed up with police overstepping their authority. Whitehead had her door open while she was smoking a cigarette and having an argument with a member of her household. Two unidentified Billings police officers decided to enter her home without cause and subsequently got "schooled" by the outraged mother. The encounter was caught on video and now Whitehead is being praised by Black Twitter for her courage and refusal to back down.
The incident is surreal and somewhat frightening as two White cops stepped through her front door and entered her home. Whitehead immediately confronted the officers, and stated they did not have permission to enter her home. That's when one of the officers gives an excuse that boggles the mind stating "we heard an argument."
Whitehead then tells the officers there is no problem and again asks them to leave her home, but the officers refused. What happened next was a blistering verbal beat down from Whitehead, who obviously knows her rights. But the cops persist in trying to justify their presence and changed their story from "we heard an argument," to "we got a call about an argument" as the excuse for entering the home illegally.
Whitehead is loud, profane and justified in the defense of her home and rights. She tells the officers "I'm screaming because you're in my space; this is my home, this is where my kids live, how I know you wasn't coming up in here with a f—' gun, Black People Killer? How do I know that? I don't! So guess what, I'm aggressive. I'm being hostile, like you guys call us, because you done came up in my home!"
Finally, the two cops realize they have no legal cause for entering Whitehead's home and insult her intelligence as they leave.  As the officers leave, Whitehead is heard to say mockingly "And don't ever do that again, thank youuu," as she closes the door to her home.
The video has gone viral with over 2 million views on social media platforms and can be seen below. The video contains strong language and is not safe for work.