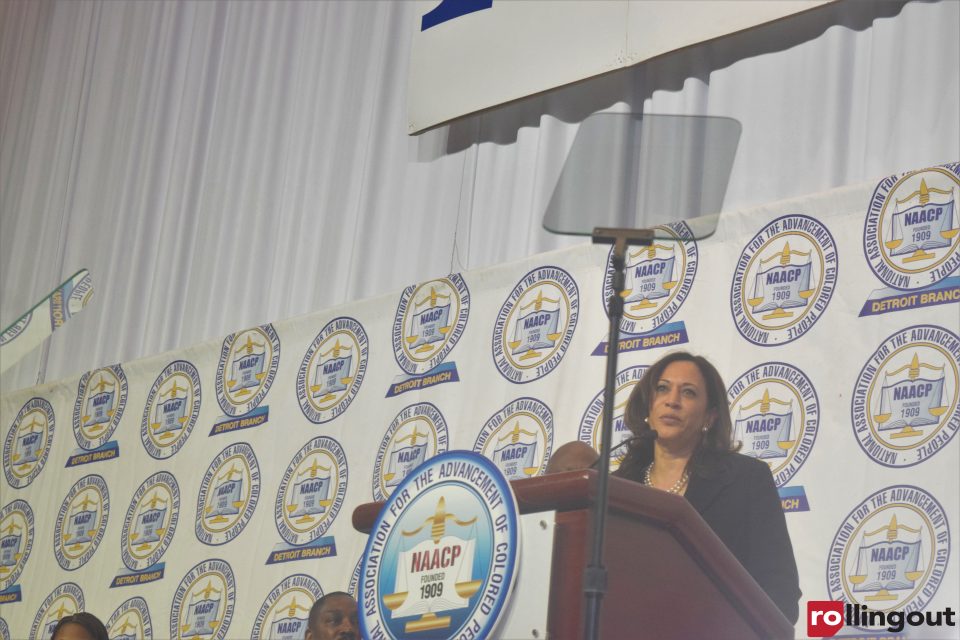 Celebrities, politicians and community members enjoyed an evening filled with accolades, celebration and calls to action at the Detroit NAACP's 64th annual Fight For Freedom Fund Dinner.
The theme for this year's event, held Sunday, May 5, 2019, at the Cobo Center, was "Freedom knows only one direction … Forward!" Kamilia Landrum, the Detroit chapter's executive director, says the historic organization remains one of "the oldest and boldest champions for civil rights."
Notable attendees included actor Clifton Powell, actress Serayah and singers Akon and Raheem DeVaughn. DeVaughn captivated fans who attended the president's reception after the dinner. Michigan's U.S. Sens. Debbie Stabenow and Gary Peters and U.S. Reps. Brenda Lawrence and Rashida Tlaib were also present.
The highlight of the night was the keynote speaker, U.S. Sen. Kamala Harris, D-Calif. Harris, one of many Democrats running for the 2020 presidential nomination, was direct in her criticism of President Donald Trump.
"Let's speak truth here today. This president isn't trying to make America great. He's trying to make America hate," she said. "It's time we had a president who brings people together rather than rip them apart. It's time we had a president who speaks out against hate in all its forms."
As the former California attorney general, Harris is a maverick when it comes to addressing issues such as health care and tax cuts for working and middle-class families.
"No child of any race should live in poverty or die during infancy," she declared to the audience of almost 10,000. "So as president, I'll pass the largest tax cut for middle-class and working families in a generation. Families making less than $100K a year would receive $6K that they can access at up to $500 a month. It will mean being able to cover that unexpected expense. It will mean food on the table, making rent, or paying for expensive prescription drugs or child care.
"It will lift up one in two American households and two in three children — and 60 percent of Black families. And when people ask me, 'How are you going to pay for it?' I'll tell you: I'm going to repeal that Trump trillion-dollar tax cut that benefitted the top 1 percent and the biggest corporations in our country."
Michigan is one of the swing states Hillary Clinton lost during her 2016 presidential run. Harris must impress voters across the Midwest to beat Trump next year. Her shrewd inquiry of Attorney General William Barr last week gave her what one of her aides refers to as the "Barr bump" in fundraising and popularity.
Known to face tough issues head-on, Harris addressed the murmurs of "electability." She was also clear on her stance about the monolithic perception of Democrats.
"The conversation too often suggests certain voters will only vote for certain candidates regardless of whether their ideas will lift up all our families," she said. "It's short-sighted, it's wrong, and voters deserve better. Our party is not White or Black … Hispanic or Asian … immigrant or indigenous. It is all of us."
Check out the photo gallery for a few moments from this memorable night.