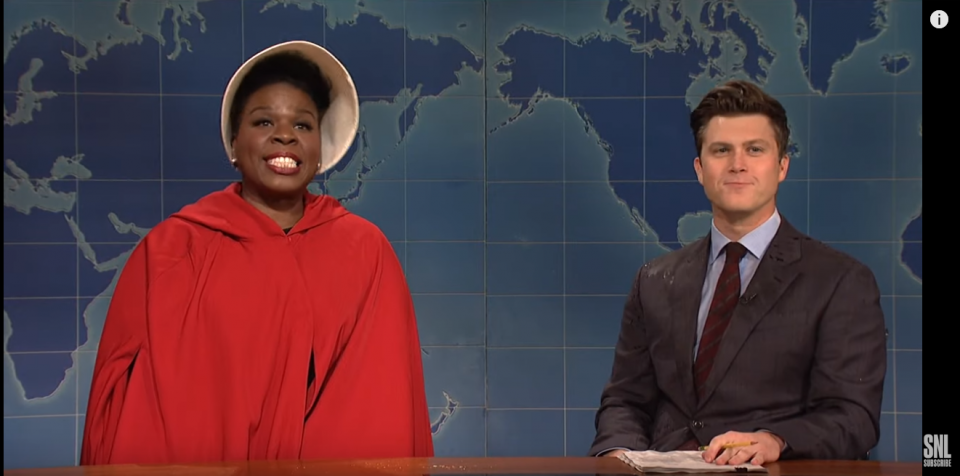 You knew "Saturday Night Live" was going to get ahold of the controversial Alabama abortion law and rip it to shreds.
Last night, comedian Leslie Jones ripped into the country's most restrictive abortion legislation twice on Saturday night, and also touched upon other states that have passed similar measures, including Ohio, Georgia and Missouri.
In the first skit with fellow comedian Colin Jost, Jones was cloaked in "The Handmaid's Tale" outfit, which many women have donned as a symbol of their resistance.
When Jost asked about the outfit, Jones retorted with: "We are all handmaids. My name actually is OfJost."
After she disrobed to show the word "MINE" and an arrow pointing south for obvious reasons, she proceeded to ardently defend the woman's right to choose what happens to her body.
"The next thing you know, I'm at Starbucks and they won't take my credit card because I'm a woman instead of the regular reason, which is I don't have no money on me."
Jones demanded that the composite photo of the 25 white Alabama state Senators who voted for the abortion ban be put up on the screen.
"This looks like the cast of Lipitor commercial," Jones said to laughter. "These look like mugshots of everyone arrested at a massage parlor."
Jones was just getting revved up: "You can't control women because, I don't know if y'all heard, but women are the same as humans. And I'm Leslie Dracarys Jones."
"Why do all of these weird ass men care what women choose to do with their bodies? I don't care what you do with your 65-year-old droopy ass balls."
"When women have a choice, women have freedom," Jones said to raucous applause.
"The fact that nine states are doing this means this really is a war on women," Jones continued. "You can't tell me what to do with my body."
"When women have a choice, women have freedom." Leslie Jones talked about Alabama's recently-passed abortion bill during the Weekend Update sketch in #SNLFinale. https://t.co/kk9dwb3QSi

— Twitter Moments (@TwitterMoments) May 19, 2019
SNL also spoofed "The View" where Jones acted as Whoopi Goldberg and Kate McKinnon played Joy Behar.
McKinnon joked that the men who voted for the measure are "so concerned with what happens to a six-week fetus because they all look like one."
Check out the video below:
https://www.youtube.com/watch?time_continue=2&v=GWScGScu6WM