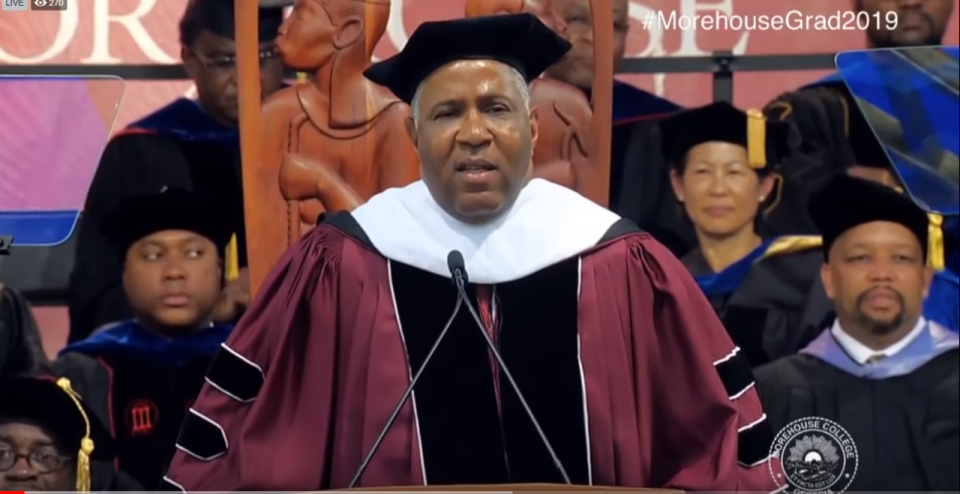 The euphoria of graduating from college for most college students is soon replaced by the somber anxiousness of finding immediate employment to pay off towering student loans.
Thanks to billionaire Robert F. Smith, the 400 graduating seniors at Morehouse College will not have to worry about student loans anymore.
Smith, who was given an honorary doctorate degree at Morehouse College's Sunday morning commencement exercises, made the startling and, for the 2019 graduating senior class, joyous announcement.
Smith had already made news for making a $1.5M gift to the school. But the technology investor and philanthropist's vow to wipe out the student debt of the entire Class of 2019 created momentary bedlam.
"Between doubt and your destiny is action. Between our community and the American Dream is your leadership."#MorehouseGrad2019 pic.twitter.com/G6RzMj3BEM

— Robert F. Smith (@RFS_Vista) May 19, 2019
As you can see in the video, it took a second for the crowd to absorb Smith's thunderclap announcement before going crazy. Smith believes the grads will do the right thing with the gift.
"On behalf of the eight generations of my family who have been in this country, we're going to put a little fuel in your bus," he told the class about the gift, according to CNN. "This is my class, and I know my class will pay this forward."
The shocking declaration incited an uproarious celebration and standing ovation from the predominantly Black student body near downtown Atlanta.
"I want my class to look at these (alumni) — these beautiful Morehouse brothers — and let's make sure every class has the same opportunity going forward because we are enough to take care of our own community. We are enough to ensure we have all the opportunities of the American dream."
Smith, chairman and CEO of Vista Equity Partners, a software and technology investment firm, announced the creation of a foundation where technology genius will store the estimated $40M gift to pay off the loans of 400 graduating Morehouse seniors.
Check out that portion of Smith's speech posted by HBCU Pulse on YouTube below: