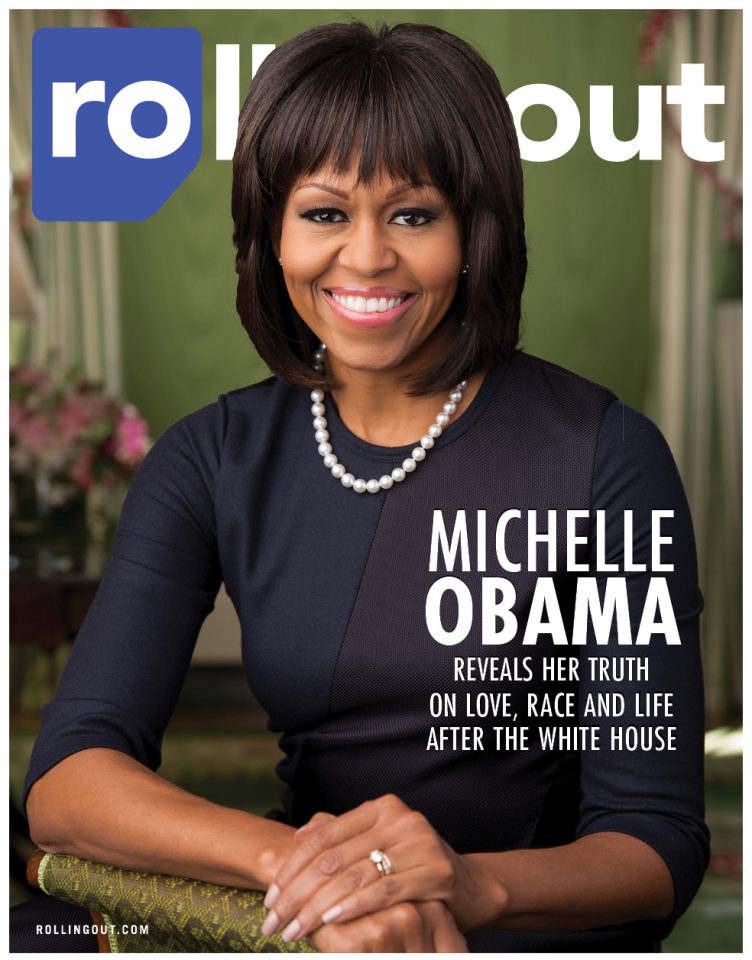 For eight years, this writer followed the Obama family. I was present at Xcel Energy Center in St. Paul, Minnesota, on the summer day in 2008 when Michelle Obama gave an impromptu fist-bump to her husband and presidential candidate at the time, Barack Obama. I stood in the midst of thousands of Chicagoans in Grant Park as Barack Obama became the first Black president of the United States on Nov. 4, 2008. I covered multiple events at the White House and attended their farewell celebration at McCormick Place in Chicago on Jan. 11, 2017.
But even after following the Obamas during their eight years in the White House, there were still aspects of their story that remained untold. It was easy to recognize the significance of their achievements and how they appeared to navigate the treacherous world of politics with class and grace. But the public never truly got an idea of what the Obamas endured personally.
Enter Michelle Obama's Becoming.
Michelle decided to take her message one step further with a 33-city book tour that would allow her to share her views on race, marriage and life inside the White House.
"Becoming Live" was her opportunity to share her truth with the world.
"I was nervous in a different way because this book was about me," Obama said while speaking to Gayle King in front of a sold-out crowd at State Farm Arena in Atlanta. "I put my life, my soul out there, and I wasn't sure if what I wanted to give to you all was actually what you would get."
Her nervousness would subside after speaking to her husband, who gave her the assurance to be confident with the process. Becoming is on track to being the best-selling memoir in history, according to Penguin Random House.
A large portion of the book unfolds like a love story as Michelle describes how she fell in love with Barack. They had an inauspicious beginning in 1989 when Michelle was assigned to supervise him at a Chicago law firm and Barack showed up late for their first meeting.
"He was late, and I was like, 'trifling Black man,' " Obama laughed. "He arrived, and I was a little irritated, and then he stands up, and he's 'Barack Obama.' He flashed that smile and said, 'I'm so sorry. I wasn't equipped with an umbrella.' And he still had that walk so he wasn't in a rush. I said, 'Oh, dude. You got the nerve to be late, and you're still walking slow.' "
They would marry three years later.
When Barack decided to pursue his political ambitions, Michelle was a bit apprehensive due to the negative aspects of politics. But she believed in his determination.
"I believe in politics. We need good people in politics," she shared. "I don't like the game of it. I never did. You have to have a temperament. Barack had the temperament, he had the intellect, he had the desire. It was his passion."
Michelle's passion inspired millions during her term as the first lady. However, she was not prepared to handle the constant attacks that were, at times, overtly racist. During a segment of "Becoming Live," she addressed the racist cartoons and backlash she faced.
"I wasn't ready for that because I wasn't a candidate. I was a spouse," she said. "I don't know if anyone had ever come after a political wife in this way. But what I came to learn was this was just a game of power. … People were saying, 'She doesn't believe in this country. She's unAmerican.' The campaign didn't prepare me to be who I needed to be because I was a wife … I had to learn how to turn it off. I understood that politics was a game. It's not about the truth. It's about distorting the truth so the other person can win."
Michelle also revealed that she has no plans to run for president, stating that politics had a tremendous effect on her family, especially her daughters, Sasha and Malia. "It would be unfair as a nation to ask those two little girls to go through this again," she said.
Throughout the pressures of being the first Black family to ascend to the highest office in the land, Michelle Obama knows that the journey was worth a few bumps. The example set by her family will spark the next generation. Because life is not about your current position. It's ultimately about what you choose to become.
"It was me fighting back so that all of our children know that they are good enough to be in this house [White House]," she said as the crowd roared. "It makes a difference to the young people who can walk through those doors and meet the president and look him in the eye and tell their stories. They walk out with their heads high."
Words by A.R. Shaw
Cover image credit: White House