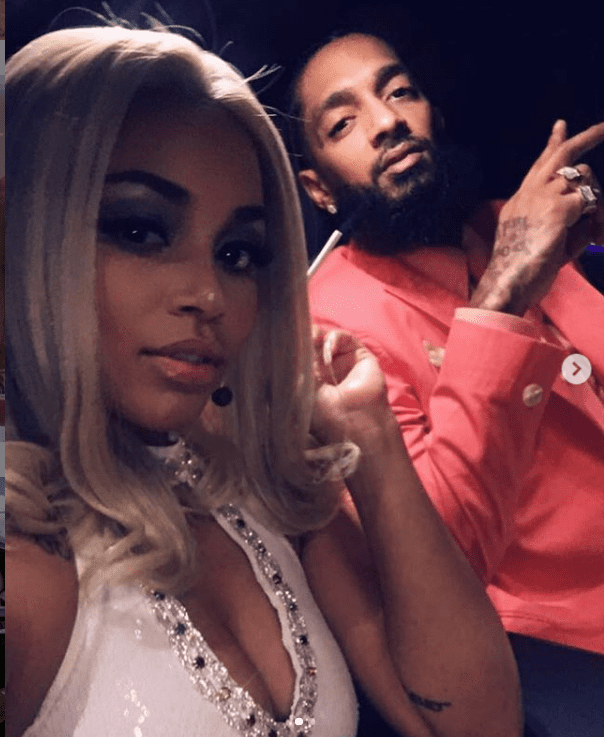 Tanisha Foster, the irascible mother of one of Nipsey Hussle's children, is finally speaking out on her real relationship with the legendary rapper-businessman-philanthropist as well as with actress Lauren London.
Foster, who also goes by Chyna Hussle for her 115K Instagram followers, has waged a legal war with Nipsey's sister, Samantha Smith, over the custody of 10-year-old Emani Asghedom, whom Foster had with Nip.
After temporarily losing custody of her daughter — there is another scheduled hearing in July — Foster unleashed on her haters on IG.
"I'm going to live my life. It was 16 years. He was 16 years of my life. Does anybody know that? I don't prove anything to anybody. I don't have to."
Foster then paid homage to her former boyfriend.
"My child's father didn't disrespect me. I talked to him 30 minutes before he died. How about those apples? Do y'all know that? I don't feed into negativity, baby. I don't pay them any mind. I don't give a damn about these people. They give a damn about me, though. So all the haters can eat my sh-t, but the people who love me, I love y'all."
Foster gave fans a clue into her relations with London, the star of ATL and BET's "Games People Play."
"I don't have a problem with Lauren. She doesn't have a problem with me," Foster said.
One person reacted to the story by giving props to Samantha Smith for keeping Foster's daughter: "When you said I got Lauren, Emani, Kross, 'Sam's my responsibility now' I got Mommy, granny, and pops. You meant that sh*t! You hold it down, and I know he is looking down, proud !. We are proud! Keep that shit up, Queen! The Marathon Continues 🏁💙"
Another responder just wants Emani Asghedom to be safe: "I cried happy tears when I read Emani is staying where she needs to be. I don't even know you or her, but I feel like I need to know that beautiful little girl is ok. God Will Rise 💙 sending you and the fam all my love and prayers. You got the world in your corner. 💪🏾Thank you! 🏁"