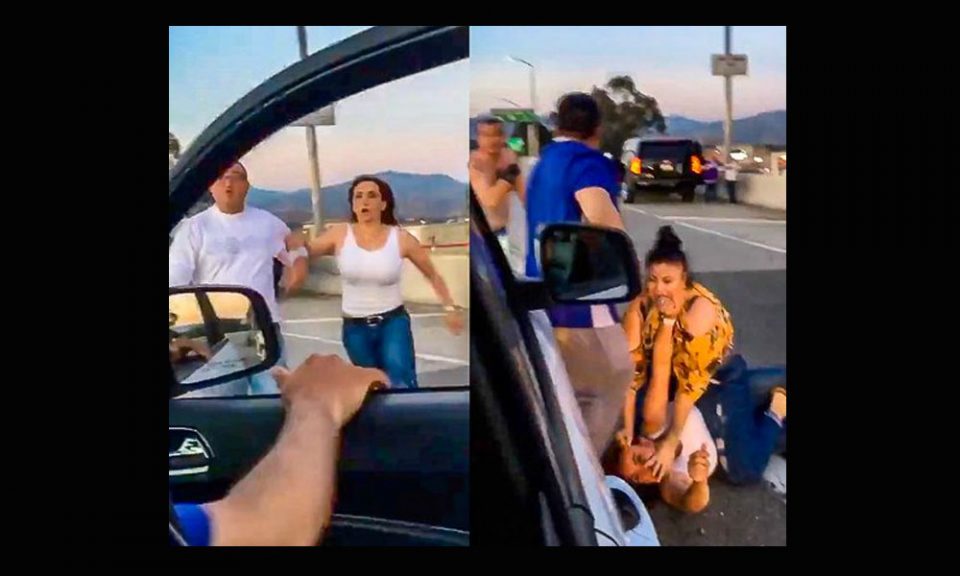 Across the country, incidents of road rage are becoming an all-too-familiar sight on social media. The results of confronting aggression behind the wheel have led to shootings, injuries and death. For one White couple who decided to use a racial slur when confronting a Latino family, it resulted in an epic butt kicking.
According to a Twitter post by a user identified as @PattyMonstercx, she and her family were on Highway 118 in California when the vehicle driven by a White couple cut them off.
As the family was stopped in the middle of the road, the unidentified White couple jumped out of their car and walked toward the Latino family.  As the White couple approached the car, they used the racial slur "beaners" towards the Latino family.
One of the Latino couple's children was on the phone with a 911 dispatcher asking for help, when her father jumped out of the car to confront the White male and female couple, who used profanity and continued to call the Latino family names.
But when the Latino mom yelled "he hit me," the Latino father is heard to say "you hit my woman?" A brawl ensued between the two angry couples.
The fight became epic when the White man realized the Latino dad was not an advocate of nonviolent resistance in the face of racism and got clocked upside the head. The aggressive man then tried to back down, but it was too late, as the Latino dad commenced to cash the check the racist driver decided to write that day.
The words "chill out, bro" couldn't defuse the beating both he and his wife got from the Latino couple.
At the time of this writing, it is unknown if either couple will face any charges for the freeway beatdown that has gone viral on social media. The video shared by @PattyMonstercx on June 9, 2019, of the incident can be seen on the next page.