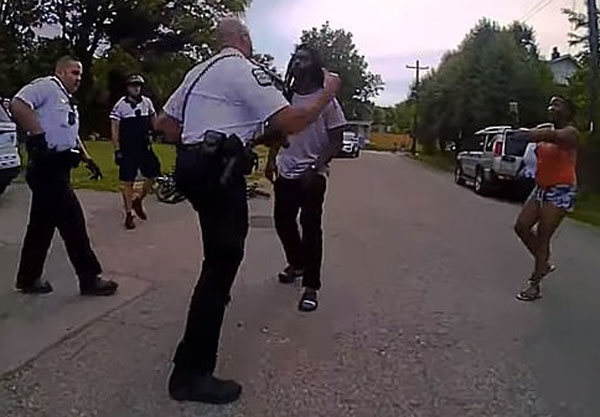 Once again law enforcement has been caught on tape allegedly brutalizing Black citizens, this time in Columbus, Ohio. A video was shared on social media that shows a group of Black residents being terrorized, and in at least one instance, assaulted by a well-known Black cop.
According to the Columbus Police Department, officers were responding to an alert from a ShotSpotter detection system. Jonathan Robinson, 25, was out with his small children and other family members when upon hearing gunfire, they went back inside their home for shelter. Soon officers responded to the Stanley Avenue neighborhood in force with weapons drawn. Robinson told NBC4, that to his surprise police came to his door and ordered everyone out of the home.
Robinson and his brothers, Derryle and Derrick, along with other adults, complied with the police request. His wife asked one of the officers if she could go back into the home and get her toddler children and was allowed to do so. Robinson told the Columbus Dispatch, "She starts to come across the street [and] the officer with his hand on his trigger approaches her, and is trying to tell her what to do."
That is when Robinson went to the officer to find out why his wife was being stopped. He was then confronted by Officer Anthony L. Johnson, aka "The Dancing Cop" and an altercation ensued that many are calling a display of excessive force. Johnson is a Black officer who became an internet star after videos of him dancing with kids in the community went viral. He is considered by the department as an outstanding officer when it comes to community outreach.  However, this time his outreach was a punch to the face of Robinson.
The incident was caught by police body cameras and on Monday, June 10, 2019, the Columbus police department released footage to the public. The incident is under investigation and the following was posted to the Columbus Division of Police Facebook page:
"On Friday, June 7, 2019, at approximately 4:05 pm the Columbus Division of Police received a shots fired report in the area of 968 Heyl Avenue. Officers responded to the scene. Over the weekend cell phone video was shared on social media of the police response to the incident. Video of the incident was caught on officers' body worn camera and cruiser video. Columbus Police is conducting an investigation into all aspects of this incident. The results of the investigation will be released upon its completion. Columbus Police is providing a link for the public to view the videos. Portions of the video have been redacted due to redaction laws."
Below are the links. The first is the viral video posted to social media, The second page is footage released by the Columbus Division of Police: