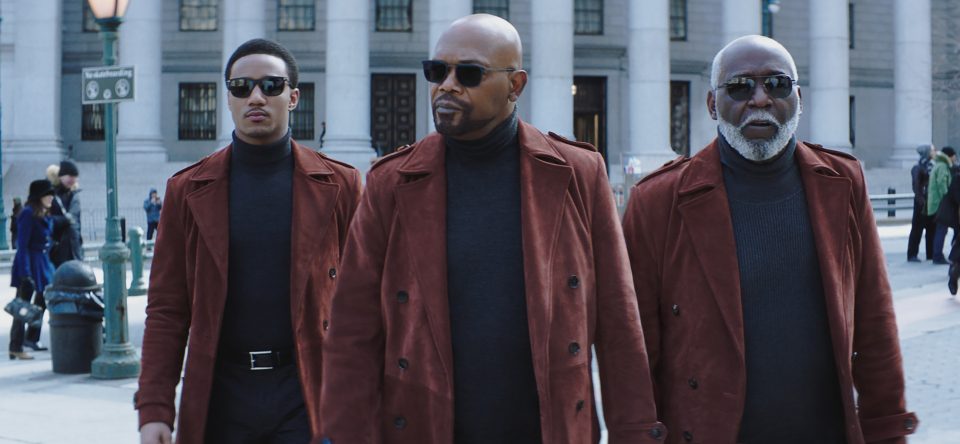 What happens when you combine the star power of one of the highest grossing actors of all time (Oscar-nominated Samuel L. Jackson), the brand of Shaft, (originally released in 1971 and rebooted in 2000 with Jackson), intelligent humor (with Black-ish creator Kenya Barris as writer) and a mix of newer and established talent (Alexandra Shipp, Jessie T. Usher and Regina Hall)? You get an exciting thrill ride of a film that will keep you laughing and thoroughly entertained from beginning to end.
Jackson returns as John Shaft, a Harlem-based private investigator who is notorious for breaking all the rules and all of the hearts of his massive stable of women. The film is directed by Tim Story, who was also responsible for the blockbuster success of Ride Along and Think Like a Man. As fate would have it, his son, JJ Shaft (played by Usher), is the polar opposite of his Dad. He is an FBI agent specializing in cybersecurity who follows all the rules and doesn't like guns. When the facts of a case don't add up, the younger Shaft seeks assistance from his Father, and the two begin to bond.
Hall stars as Maya — JJ's Mom and a former John Shaft flame — while Shipp plays Sasha — an old friend of JJ's. The original Shaft, Richard Roundtree is also in the film, uniting three generations of Shaft(s) on the screen. Actor and rapper Method Man of the Wu Tang Clan plays Freddy P.
The film is very entertaining as an action flick, but it is the laugh-out-loud comedy and unique writing that makes it special.
It was intentional for this film to be released Father's Day Weekend, as it can provide an excellent family outing for the men in your life. And with the Toronto Raptors avoiding an NBA Finals game 7 on Father's Day, the path is cleared for you to see this film during the special weekend. The film Shaft is a modern tale about Black manhood today and an excellent starting point for a conversation between men and women on what manhood is.