OJ Simpson's Twitter sends threatening direct messages to parody account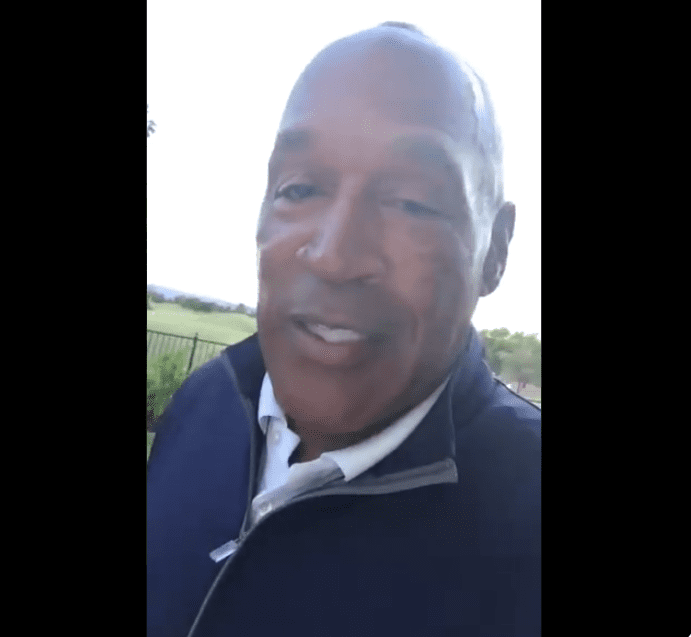 OJ Simpson. Photo: [email protected]
The Twitter account that belongs to social pariah OJ Simpson sent a series of threatening messages — including multiple knife emojis — to the parody OJ Simpson account that routinely mocks him for the 1994 murder of Nicole Brown and Ron Goldman.
The parody account, @KillerOJSimpson, has made a living making fun of Simpson in videoes and memes, including one where a doctored photo shows Simpson smiling while holding a knife with a black-gloved hand.
The menacing messages sent from @TheRealOJ32 to @KillerOJSimpson come on the heels of the 25th anniversary of the notorious "slow-speed chase" in the white Ford Bronco along a Los Angeles highway. And the intimidating tweets also come just days after Simpson vowed he was "getting even" during his Twitter debut this past weekend.
The owner of the @KillerOJSimpson handle alerted the world that he got the threats from the @TheRealOJ32: "Man, you would never guess who the hell just messaged me on Twitter in a DM. Look at this s––."
C'mon man lmao OJ playin…DM number 2. He about to "cut" me. #OJSimpson 🤣 pic.twitter.com/UX6z3PfBny

— O.J. Simpson🔪 (@KillerOJSimpson) June 17, 2019
Simpson's account is demanding that the parody page be deleted over "false misleading (sic) content I didn't post."
The author of the fake Simpson account is dumbfounded because Simpson has about three-quarters of a million followers after just one weekend on Twitter, whereas the fake @KillerOJSimpson account is only followed by about 300 people.
The parody Simpson account shot back, asking: "And if I don't? You gonna stab me too? In reality I ain't lying..You, me and millions know the truth. You Trippin' over a parody account lol Welcome to twitter bruh."
The fake @KillerOJSimpson then showed the exchange where the person from @TheRealOJ responded back with even more forceful language:
"Like I said, delete this 'Parody' account as you call it or face serious consequences by me. I'll find your a– one way or another so don't mess with me. I got nothing to lose. Grow up!"
In a second video posted hours later, the owner of the fake Simpson account shows where [email protected] then sent another series of messages beginning with: "Think I'm playing mother——…"
"Seen that video you posted about me. You think I'm playing? Tired of all your bulls––. I WILL FIND YOUR A– AND CUT YOU — Don't believe me? Just watch and see b—-," another message from Simpson's account says.
According to the New York Post, the real Simpson account then sent a string of 16 knife emojis with the foreboding words "you next."
According to the Barstool Sports website, the messages attributed to Simpson could be fake. The New York Post could not authenticate the messages from the @TheRealOJ32 and repeated messages to the account were not returned.
However, if the messages can be attributed to Simpson, it could constitute a violation of his parole. Simpson served nine years in prison for armed robbery in Las Vegas. The Nevada Department of Public Safety told the Post that they have been made aware of this current matter.