"Love and Hip Hop Hollywood" star Teairra Mari already told 50 Cent, social media and the courts that she is broke. She even produced a song this year titled "I Ain't Got It."
Teairra Mari Thomas' pocketbook is really taking a hit now after she got busted for alleged drunk driving in New York.
In fact, the singer and reality star, 27, was reportedly so intoxicated that she was driving her Dodge Charger through Queens, New York, on a missing tire that produced sparks and loud screeching noises, TMZ reports.
The NYPD caught up with her as she was coming out of the Midtown Tunnel and noticed the missing tire and that the front bumper was dragging on the ground as she was driving, indicating that she may have run into something while she was struggling to drive to an unknown destination.
According to the NYPD police report obtained by TMZ, Mari was so intoxicated that she had trouble balancing herself getting out of the car and failed the field sobriety test.
Worse for Mari is the fact that she was not only arrested and then forced to stay in jail until she sees a judge, but the Department of Motor Vehicles records show that the volatile singer's license is either suspended or revoked. So she had two reasons she should not have been driving.
Mari has been charged with DUI and driving without a valid driver's license.
These serious infractions are going to set her back even further in debt as she continues to face the fact she is $30K in the hole to rapper 50 Cent.
Speaking of Fifty, he wasted no time hopping on Instagram to let everyone know that Mari caught a DUI case and that he still wants his money by the end of the weekend. He posted this headline of the troubled star: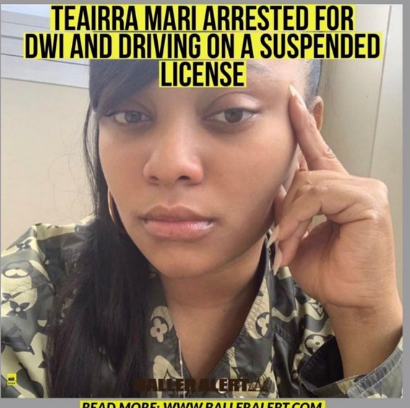 "😳Jesus take the wheel, A b—- drunk🤦‍♂️ 🤨I still want my money Monday. (Dirt Bag!)," 50 Cent wrote on IG.
Remember, Mari lost a lawsuit she filed against Fifty after her ex-boyfriend leaked a compromising video of her and Fifty shared it on his IG page. Now she is in arrears for 30 stacks to the ruthless troller and "Power" producer.