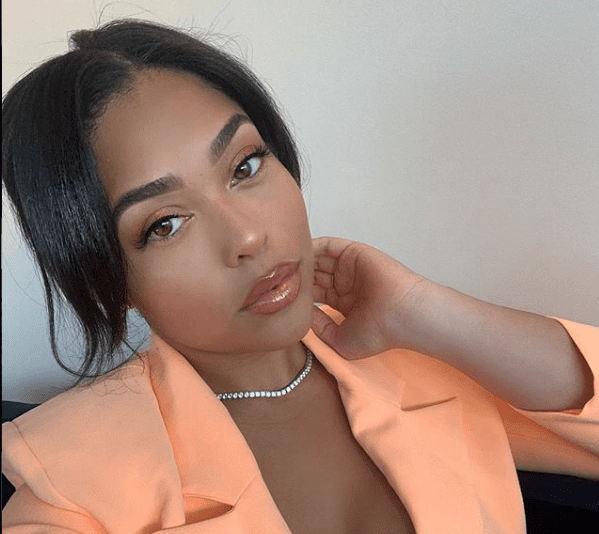 Khloe Kardashian actually had the intestinal fortitude to let the word "fat" spill from her lips when describing Jordyn Woods.
There has been a sharp spike in the ratings of the season finale of "Keeping Up With The Kardashians" due to the almost singular focus on the Tristan Thompson cheating scandal involving the 21-year-old Woods.
In the first episode of the two-part finale, fans saw Kardashian go off on a tirade about how Woods allegedly destroyed her family. Kylie Jenner, however, was trying to prevent the Kardashians from piling on and "bullying" Jordyn.
That hardly deterred Kardashian, who had the audacity to call Woods "fat." She actually called Woods and Thompson "fat f— a–holes" despite the fact that she has been bullied and body shamed throughout her public life.
Worse, as fans below pointed out, that Kardashian was supposed to be championing body positivity yet denigrated Woods who is a plus-size model.
Check out the video below of KUWTK and then view the relentless pummeling that Kardashian was subjected to for calling someone else "fat."
not at khloe kardashian calling jordyn woods "fat" and body shaming her, honey you wish you could be as beautiful as jordyn and have her natural lips and features pic.twitter.com/nqiUYfoOQa

— madison 🐱 (@madisonqueen18) July 1, 2019
Khloe calling Jordyn fat but is a mentor to people who struggle with their weight now that is disgusting. #KUWTK

— BRANDY (@Bran_Lynn) July 1, 2019
khloe called jordyn fat? this is your body positivity queen? the same person who has a tv show about helping people reach their goal weight? #KUWTK pic.twitter.com/MMmahKJY4n

— missandead of naath (@faketonichilds) July 1, 2019
khloe did not call jordyn fat…. say it ain't so pic.twitter.com/1in4eqHVjR

— boo boo da fool (@maqooI) July 1, 2019
Khloe calling Jordyn fat like she wasnt refers to as the 'fat Kardashian' or " the fat sister" #KUWTK pic.twitter.com/3VtRbjWs2v

— Bleu 🦋 (@bleubaby_) July 1, 2019
Khloe at 21 vs Jordyn at 21….. I'd be mad too lmao pic.twitter.com/AXdLeGBM2E

— neptune (@stfudoudou) July 1, 2019
khloe linebacker simpson called jordyn fat? the same khloe that started a whole fitness show to help people lose weight? the ugly step sister? the one who's puthy smell like earring backs? pic.twitter.com/82JhU1nnWk

— beanyoncé (@beeeaanz) July 1, 2019
I know Khloe did not call Jordyn fat I know she did NOT pic.twitter.com/Bz8aTS3m1e

— The Night King (@NorthofNaomi) July 1, 2019
Did Khloe 'Kardashian' Simpson Roldan just call Jordyn Woods fat on #KUWTK? Not everyone got their fat sucked out by a professional Khloe

— Real Housewives (@Real_Housewives) July 1, 2019
for khloe to fat shame jordyn is beyond me. you're a mother to a daughter, and that isn't the woman-woman interactions her daughter should be seeing. unfortunately, her daughter will see it one day and thank it's okay to talk about people like that.

— i want my chip with the dip. (@brexpk) July 1, 2019
Welp. Khloe called Jordyn fat. Kim called Jada "pathetic".

Black girls and gays, what we about to do? pic.twitter.com/AfuPIdNw8J

— Jada (@JadaEmonee) July 1, 2019