Kawhi Leonard banned from LA coffee chain for joining Clippers (photo)
LOS ANGELES — The war of pettiness between the Los Angeles Lakers and Los Angeles Clippers' fanbases has officially commenced.
Alfred, a popular coffee chain in L.A. and California, has banned superstar and NBA champion Kawhi Leonard from patronizing their coffee houses because he chose to join the Clippers instead of the Lakers. The chain also announced that another superstar import, Paul George, will also be denied service for the same reason.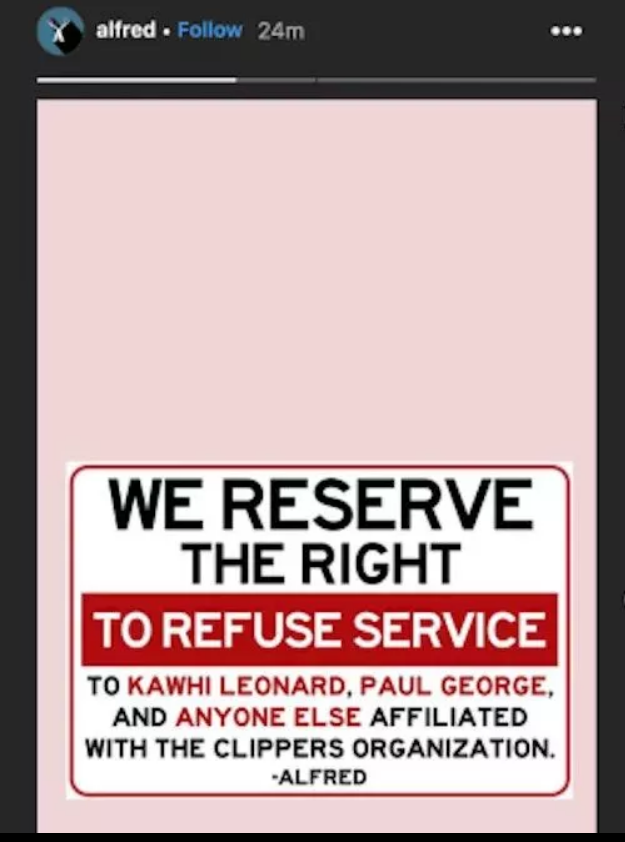 For those who are not serious sports fans, the Clippers and Lakers not only share a city (Los Angeles) and a region (Southern Cal), they also share the same NBA basketball arena (Staples Center) in downtown L.A.. And things have gotten intriguing and heated, even though the season is four months away.
Both the Lakers and Clippers have acquired a duo of superstars within the past year, with LeBron James and Anthony Davis joining the Lakers, while Leonard and George have joined the Clippers. Las Vegas betting houses have already stated that these two teams have the highest chances to take home the 2020 NBA Finals trophy.
And, subsequent to the awakening of this once-dormant rivalry, pettiness has already taken hold in the City of Angels.
Nice work @alfredcoffee pic.twitter.com/vKY3vLIm01

— Tucker Tashjian (@WolfgangTuck) July 8, 2019
Of course, Alfred coffee meant the banishment of all Clippers players from their coffee houses as a light-hearted joke.
But Clippers fans were all in their feelings about the perceived public slight and a herd of angry fans stampeded over Alfred's Instagram page to spew hot venom.
The tidal wave of hate became so great that Alfred had to turn off the comments section of its IG page and then release the following statement to its 127K followers to confirm that it was just a joke.
As the infamous Rodney King once asked: "Can't we all just get along?"