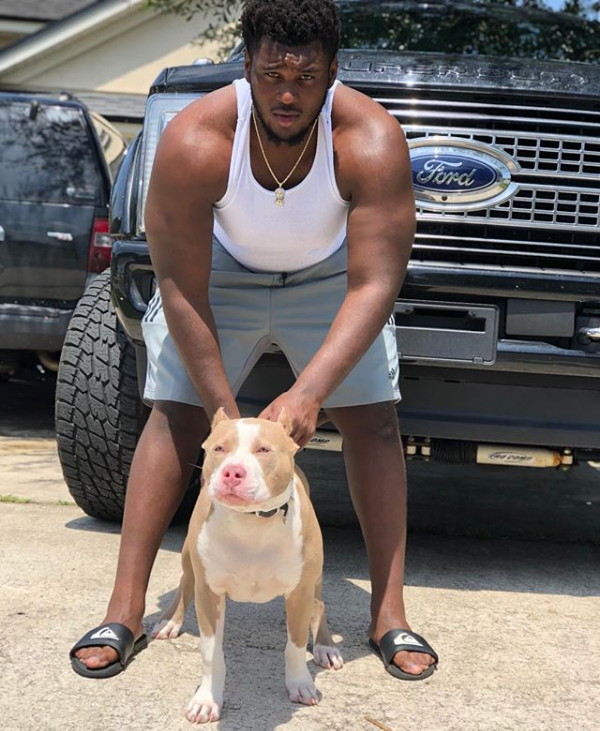 NFL player Kendrick Norton is being given a traffic ticket for causing the horrific 4th of July traffic accident that severed his left arm at the scene, the state police in Florida told the media.
Norton, 22, who was drafted in the 2018 NFL Draft to play in his home state with the Miami Dolphins, is being cited by the Florida Highway Patrol as being at fault in the early morning crash that caused serious injuries to him and his girlfriend, TMZ Sports reports.
Worse for Norton, he could be on the hook for the $15K worth of damage to the concrete barrier that he hit that caused his vehicle to flip onto its hood, the entertainment publication added.
According to TMZ, authorities were able to sketch together the circumstances that led up to the near-fatal crash. Authorities said Norton was driving his 2017 F-250 pickup truck on SR 826 when he was about to get off at the northbound exit. At the last minute, Norton changed his mind to exit the southbound lane. When he tried to get back onto the main highway in a split-second decision, he reportedly clipped a 2015 Maserati Quattroporte.
The Maserati was hit but managed to come to a "controlled stop," police stated according to TMZ. But Norton lost control after sideswiping the car. Norton then hit a concrete barrier on the left side of the lane and the vehicle then rolled over, coming to rest on its hood.
Tragically for Norton, the vehicle was upside down and all of his weight was on top of his left arm. According to previous reports, Norton's arm was so badly mangled, it had to be amputated at the scene. His girlfriend was also hospitalized, as both suffered multiple injuries that were not life-threatening.
Even though Norton fulfilled a dream that less than 1 percent of aspiring football players are ever able to achieve, he never got an opportunity to play in a regular-season game.