Even though jailed rapper A$AP Rocky mocked and belittled the Rev. Al Sharpton and the Black Lives Matter movement in 2015, the rapper's family has convinced the civil rights leader to try to free Rocky from confinement in Stockholm, Sweden.
In fact, several Black celebrities are pleading for Kim Kardashian to swoop in on her magic carpet in the sky and scoop up embattled rapper A$AP Rocky from the Swedish prison he's been locked up in for more than two weeks for an alleged assault.
Wendy Williams and Snoop Dogg are the biggest names so far to publicly petition Kardashian to get involved, despite the fact that Rocky said in 2015 that he can't relate to Black men being shot by the police because he's a rich rapper who resides in SoHo and Beverly Hills.
First, check out what Rocky said about Ferguson, Sharpton and the BLM in his 2015 tweet that Wendy brought back up: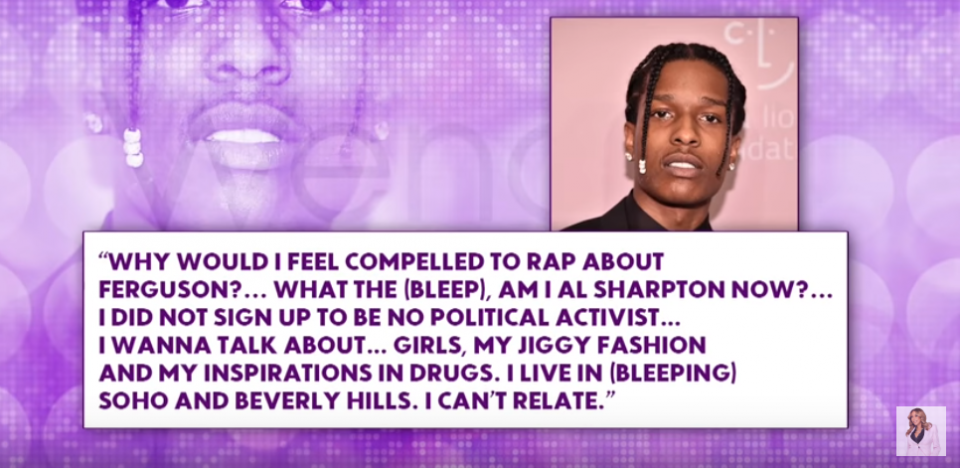 Apparently, all is forgiven among Black celebrities, because Snoop is campaigning to get Rocky out.
"Hey, Kim Kardashian. Go get Rocky out of prison," the Doggfather demanded on Instagram Live which was played on the 'Wendy Williams Show.' "Look out for us. The Black community needs this."
Snoop then tries to cajole Kardashian's husband, Kanye West, into putting his wife to work as the metaphorical Captain Save-a-Black and free Rocky from what are reportedly grotesque and inhumane conditions in Stockholm.
"Hey, Kanye. Go tell your woman to go get him out."
Wendy Willaims then put in her bid to coax Kardashian to try to get Rocky. She theorizes that Swedish people do not like Americans in general and are repulsed by U.S. celebrities, especially "Black rappers."
"She should do it," Williams said. "She's involved with the law right now, and this would be a big feather in her cap," adding that Kardashian could use her connections to crank the legal community into action.
Pop culture is already aware that Kardashian is not only looking to procure her law degree, but her celebrated visit to the White House in 2018 is credited with securing the release of Alice Marie Johnson. She is also credited with helping to facilitate sentencing reduction for more than a thousand inmates through the First Step initiative, according to TheGrio.com. 
For these reasons and more, Snoop, Wendy Williams and others believe Kardashian has the clout and cachet to secure the release of A$AP Rocky. Check out Wendy's plea on her show below:
https://www.youtube.com/watch?v=iPMVqnki4Lw