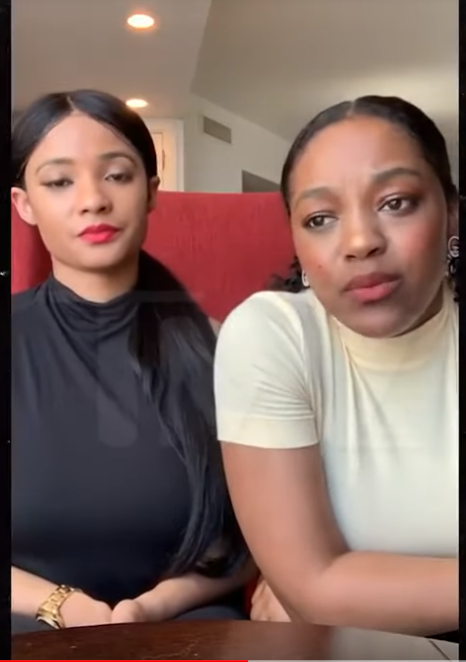 R. Kelly's live-in girlfriends, Azriel Clary and Joycelyn Savage. (Photo: YouTube/TMZ)
It looks like the alleged sex slaves of jailed singer R. Kelly are moving on – and trying to move up.
According to reports, Azriel Clary and Joycelyn Savage, the two women who had been living with Kelly in his Trump Towers condo in Chicago, have contacted Hollywood agents in order to capitalize on their infamy.
The two women's bread and butter, Robert Sylvester Kelly, 52, is languishing away in a Chicago jail on a litany of federal sex crime charges, and there is no guarantee that they will ever see him outside of jail again. Federal prosecutors successfully argued to have a judge deny Kelly bail until the trial, which is months away. If he is found guilty on all charges, Kelly may spend the rest of his life in prison.
Even if Kelly absolves himself of the federal charges, the "Bump N' Grind" singer still has to answer to a score of state sex crime charges.
With the breadwinner in confinement for an indefinite period of time, the two women have had to find ways to support themselves. In addition, they will soon have to find a place to live as the lease on the Trump condo runs out at the end of the year, according to The Blast.
Therefore, Clary and Savage have gone west. TMZ reports the pair have made contact with some notable entertainment agents as they pursue possible modeling and acting gigs and even mull over starting their own business.
That unidentified rep emailed TMZ to explain that Clary and Savage, "just want to [make] a positive name for themselves rather than the negative rumors their parents have accused them of."
The entertainment publication writes that the pair are not suddenly abandoning Kelly in his greatest time of need. The women are going to travel to New York to attend Kelly's court arraignment on federal sex crime charges there.
But it looks like the women are being proactive and are not waiting for the gravy train to run out completely.
https://www.youtube.com/watch?v=zBu6lL4tlYE