Overt racism continues to be an issue in America. Decades after a brutal act of hatred was inflicted on Emmett Till, White racists are making a point to destroy his legacy and taunt Till's family.
Several days ago, a photograph emerged of three White students at the University of Mississippi, also known as Ole Miss, posing with guns besides a historic memorial of Till, according to Associated Press.
Officials at the university asked the FBI to investigate, but the FBI declined because they believed the photo "did not pose a specific threat." Also, the students have not been punished by Ole Miss.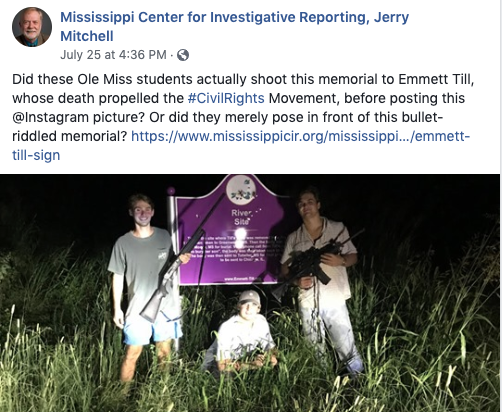 The only repercussions the culprits have faced thus far are suspensions from their fraternity, Kappa Alpha Order. Although Kappa Alpha Order suspended the students, the fraternity has a history of embracing the Confederacy. The group still claims Confederate Robert E. Lee as its spiritual founder and often flies the Confederate flag.
Till's memorial has been vandalized on separate occasions as it was once riddled by bullets.
Till was brutally beaten, mutilated, and killed at the age of 14 over a lie in 1955. Carolyn Bryant Donham lied and told her husband that Till touched her hand, made a suggestive comment, and whistled at her while he was in the store. Donham's husband, Roy Bryant and his half-brother J.W. Milam, believed her lie and snatched Till from his family home. Till was tortured and executed by Bryant and Milam. Both men were acquitted of the crime, but later admitted to committing the crime in an interview by saying Till needed to be taught a lesson.
Black students at Ole Miss are appalled that the students were not suspended by the school.