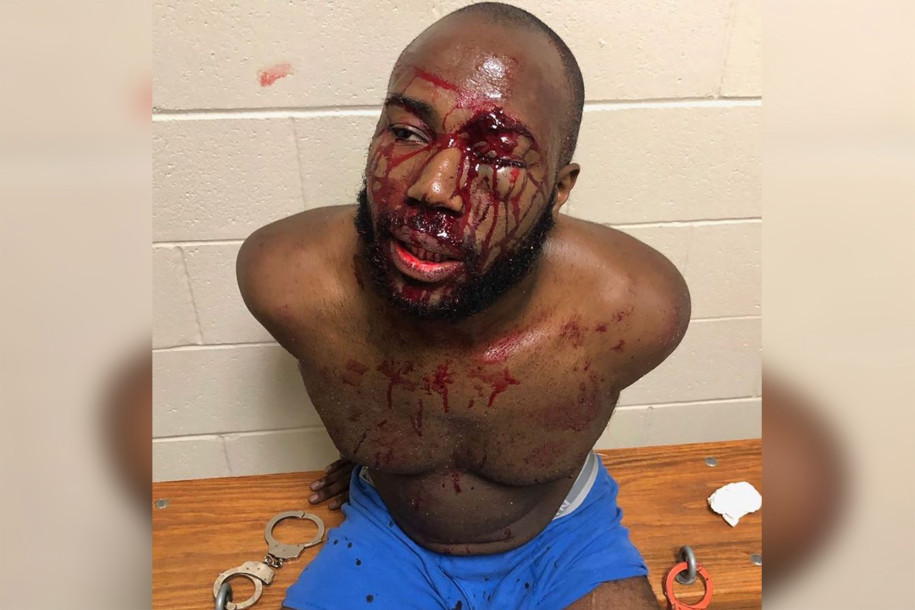 A Black Mississippi man was pummeled to a bloody pulp by white Mississippi law enforcement officers during a traffic stop in July, the man's attorney claims.
David Logan, 28, was so badly beaten that he had to be treated at two hospitals to repair a broken bone over his eye from being repeatedly bashed in the face with a flashlight – despite the fact he was unarmed and unable to deflect the blows because he was handcuffed.
The episode happened on July 18, 2019, though most of the national media became aware of it nearly two weeks later on July 31, 2019. It started during a traffic stop at a police checkpoint in Yalobusha County in Northern Mississippi, about two hours north of Jackson.
Logan's attorney, Carlos Moore, told the Oxford Eagle that the officers "attacked [Logan], threw him on concrete pavement, tased him, and roughed him up real bad."
Moore said the officers believed Logan was trying to get away.
"[Logan] stepped out of the car in the opposite direction of the officer," Moore said. "He said he was not running, and they assumed he was about to flee and they attacked him –  both, officers with the Water Valley Police Department and the Yalobusha County Sheriff's Department."
Yalobusha County Sheriff Lance Humphreys adamantly refutes Moore's claims.
"That's not even close to what happened," Humphreys told the Associated Press. 
Humphreys said officers reported that when Logan got out of the vehicle, he ran toward them twice, according to NewsOne. "He lowered his shoulder and tried to go through them," Humphreys said, adding that they tasered Logan and handcuffed him, but did not beat him.
The graphic photo of Logan, however, paints a different picture than the one Humphreys is proffering.
"They roughed him up to the extent that he was out of his clothes," attorney Moore stated, according to NewsOne. Logan was charged with possession of the controlled substance ecstasy, two counts of assault on an officer, one count of resisting arrest and one count of possessing drug paraphernalia,
"He has a fractured eye orbital, he has double-vision now and he has to see a plastic surgeon. He was never booked. He was taken to the Yalobusha County Sheriff's Department to be cleaned up some," Moore said. "The blood was removed before he was taken by the Yalobusha County Sheriff's Department to Baptist Memorial Hospital in Oxford. The staff there did everything they could for him, but he was in such bad shape that Baptist sent him by ambulance to The Med in Memphis, a level one trauma center."
On the left is #DavidLogan. He was brutally beaten while handcuffed by Yalobusha County (Mississippi) deputies. Sheriff Lance Humphreys has sided with his officers claiming deputies used appropriate force. This is simple. Release the video. pic.twitter.com/IhOGWI4hs7

— Lee Merritt (@MerrittForTexas) July 31, 2019
The attorney vowed that civil and federal lawsuits will be filed against the officers and the department.