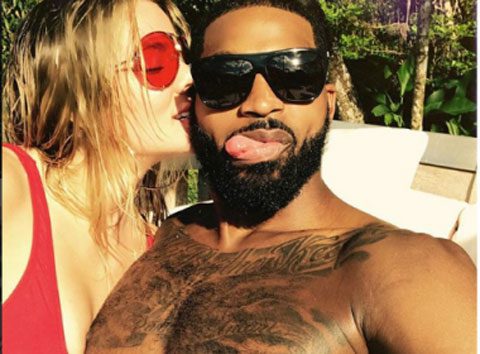 After months of conspicuous silence in the wake of the nuclear cheating scandal that rocked pop culture, Tristan Thompson is finally speaking up on several matters regarding Khloé Kardashian.
Thompson, 28, a longtime center for the NBA's Cleveland Cavaliers, is setting the record straight regarding the circumstances of how and when he met Kardashian, 34, which has been the point of major contention among urbanites.
Thompson also takes time to defend his first baby mama, model and socialite Jordan "Jordy" Craig. However, Thompson's omission of the "other" Jordan, Jordyn Woods – with whom he allegedly cheated ending his and Kardashian's relationship – is equally noticeable.
The much-maligned b-baller adamantly stated in a Twitter post on Wednesday afternoon that he was absolutely single when he met Kardashian. Social media, and especially Black Twitter, swore that Thompson left a very pregnant Craig to fall into the arms of Kardashian when both allegedly knew that he was still attached to Craig. He stated unequivocally that that version of their meeting is a lie.
Also, when I met Khloe I was SINGLE. The negative comments that are constantly being directed towards her are unnecessary. She does not deserve all this backlash for my wrong doings. Both Khloè and Jordan have been nothing but great mothers to my kids.

— Tristan Thompson (@RealTristan13) July 31, 2019
At the time, Kardashian said Thompson repeatedly told her that his relationship with Jordan, however pregnant, was over long before they met.
Thompson also refuted rumors that he has rekindled his romance with Craig after the breakup with Kardashian. There were reports that he, Jordan and their two-year-old son, Prince, recently went on a family vacation in Jamaica. But that, he says, is also not true.
I have spent the last few months training for my upcoming nba season and making sure that I am in the best shape possible. I have not been on vacations at all this summer and the current rumors spreading are 100% false.

— Tristan Thompson (@RealTristan13) July 31, 2019
What do you make of Thompson's public declarations defending Kardashian? And do you believe he should have spoken up about his cheating episode with Jordyn Woods?