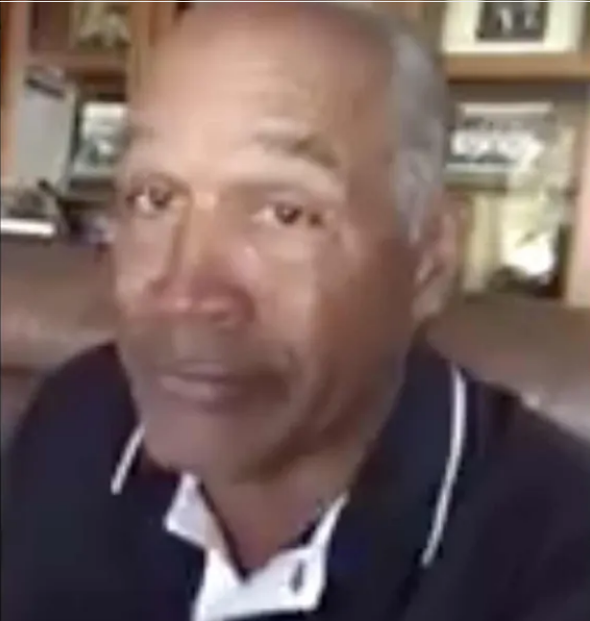 O.J. Simpson calls himself a history aficionado. The ostracized former NFL great believes the toxic culture in this country, which manifested itself in the form of two mass murders in the span of 24 hours this past weekend, resemble the rise of Nazi Germany in the 1930s.
"I want to start by sending my condolences to El Paso and Ohio," Simpson began in a video posted on his Twitter page on Sunday, Aug 4. "Man, it's horrible, all Americans should be affected by this."
Simpson, 72, was one of the most beloved and charismatic athletes in American history before he allegedly murdered his ex-wife, Nicole Brown, and her friend, Ronald Goldman. He said watching an old documentary on the rise of the Third Reich made him feel some kind of way about America today.
"Recently, I was watching a show on the History Channel about Germany in the '30s and how they came out of the Great Depression. They were affected as much as anyone, mainly because of the sanctioned placed on them because of World War I, deservedly so," he said.
"In any event, they came flying out of that depression and they [were] building roads … affordable cars for all Germans … and they were working. Their factories were booming. Now we know they were building U-boats and tanks."
There was one more troubling characteristic of that period that he says mirrors today.
"In any event, their economy was booming. Then they added something, they added hatred. Hatred for a people, for a race of people, and for a religion. And we know what that led to."
Listen to Simpson's thoughts in full below:
Not a comparison! Just an observation! pic.twitter.com/smoFargrPa

— O.J. Simpson (@TheRealOJ32) August 4, 2019