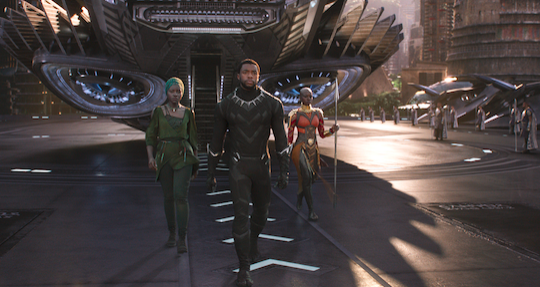 At the 2019 Disney D23 Expo, Disney and Marvel revealed a slate of new films.
In addition to sequels, the Disney-Marvel-Pixar branches unveiled plans for original films starring a who's who of talent. As expected, T'Challa and the rest of the Black Panther cast will return along with some new faces.
Here are five films announced at the 2019 Disney D23 Expo we can't wait to see released on the big screen.
Black Panther 2 (Marvel)
Currently using the working title Black Panther 2, T'Challa will continue his reign in the not too distant future.
During the main hall presentation, Marvel head Kevin Feige revealed the worldwide phenomena will return in 2022 with Ryan Coogler as director. Details are under wraps but that didn't dampen the excitement.
Black Panther is the only Marvel Universe film to receive nominations for an Academy Award. The African culture-based saga went on to gross $700 million domestically and $1.3 billion worldwide.
Black Panther 2 lands in theaters May 6, 2022.
Soul (Pixar)
Soul, Pixar's first film featuring a predominately Black cast, will ponder "metaphysics and the meaning of life," according to studio head Kevin Feige.
The preview clip introduces Joe, a school music teacher with dreams of being a big jazz musician. One day he falls down a sewer hole and finds himself in a place called "You Seminar."
The talented cast of Soul includes Questlove, Phylicia Rashad, Daveed Diggs and Jamie Foxx.
Soul arrives in theaters June 19, 2020.
The Eternals (Marvel)
Brian Tyree Henry ("Atlanta") and Lauren Ridloff round out the cast of Marvel's The Eternals. 
The Eternals is the story of a race of immortal beings who helped shape the history of Earth and its civilizations. Director Chloe Zhao says the film intends to explore what it means to be human.
The Eternals is scheduled for release on Nov. 6, 2020.
Frozen 2 (Disney)
Sterling K. Brown ("This Is Us," Angry Birds) will join Anna and Elsa in the next installment of Disney's animated hit, Frozen. 
The sequel will examine Anna (Kristen Bell) and Elsa's (Idina Menzel) lives as children before the death of their mother (Evan Rachel Wood). Brown joins the cast as Lieutenant Destin Mattias, the leader of a troop of soldiers lost in the enchanted forest for a number of years.
Frozen 2 lands in theaters on Nov. 19, 2019.
Maleficient 2: Mistress of Evil (Disney)
The evil and misunderstood fairy Maleficent returns in Maleficent 2: Mistress of Evil.
In this sequel, Maleficent (Angelina Jolie) and Aurora (Elle Fanning) are under attack from a formidable foe looking to drive a wedge between them and attack their magical lands.
Joining the cast is Chiwetel Ejiofor (12 Years a Slave), David Gyasi ("Troy: Fall of a City") and Judith Shekoni (The Twilight Saga: Breaking Dawn – Part 2).
Maleficient 2: Mistress of Evil is set to be released on Oct. 18, 2019.