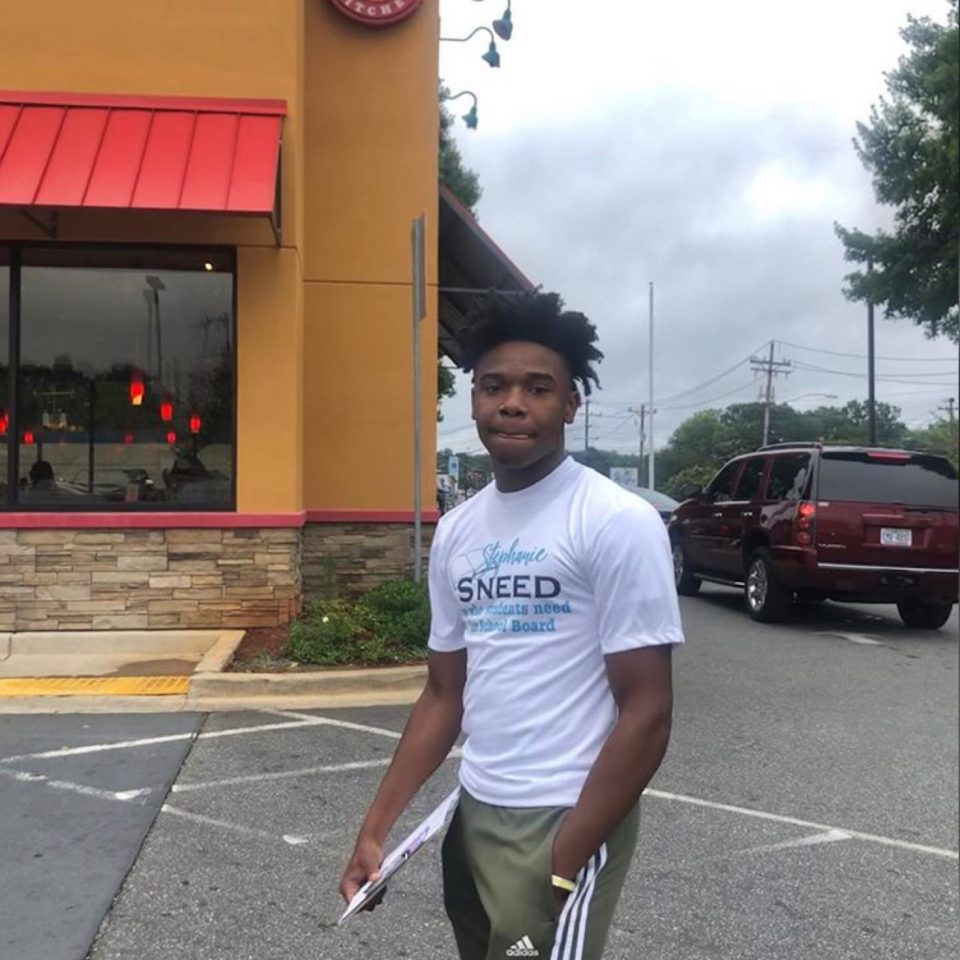 A politically ambitious teen who is too young to vote was nevertheless savvy enough to leverage the long lines at Popeyes to his advantage.
Seventeen-year-old David Ledbetter registered people to vote while they waited in long lines to get at the fast-food restaurant's popular new chicken sandwiches for $3.99.
Popeyes ignited a national craze among urbanites when it began offering fried chicken sandwiches for the first time, putting itself in direct competition with the industry leader, Chic-fil-A.
There have been a few unintended consequences of this ambitious endeavor by Popeyes: 1) It has created ridiculously long lines and frazzled nerves at virtually every franchise; and, 2) Popeyes has quickly and frequently run out of the boneless chicken, sparking temper tantrums that have been hilariously captured on social media.
Seeing the long lines, Ledbetter literally parked himself outside of a Popeyes franchise in Charlotte, North Carolina, and decided to get folks registered for the next election cycle, which is in 2020.
"I decided to register people to vote after I saw there was a lack of young people politically involved," Ledbetter, a Meyers Park High School senior, told NBC News. 
On Saturday, the future political office holder proudly boasted that he registered 16 people to vote.
"I believe that it is our duty to vote as American citizens and it would be wrong not to exercise our political voice," Ledbetter said, according to NBC News.
Check out the story on NBC News in Charlotte, North Carolina:
Ledbetter's gumption and activism were showcased by his hometown news station, NBC News affiliate WCNC. Meanwhile, hilarious memes keep springing up across the country about the urbanite craze for those new chicken sandwiches.
https://twitter.com/NoChillAllChest/status/1165758624783720448?ref_src=twsrc%5Etfw%7Ctwcamp%5Etweetembed%7Ctwterm%5E1165758624783720448&ref_url=https%3A%2F%2Fwww.11alive.com%2Farticle%2Fnews%2Fcharlotte-teen-registering-people-to-vote-as-they-wait-in-line-for-popeyes-chicken-sandwich%2F275-fa62f119-6abe-42fb-98e8-8121deec803f
https://twitter.com/AriLennox/status/1163551280981315585?ref_src=twsrc%5Etfw%7Ctwcamp%5Etweetembed%7Ctwterm%5E1163551280981315585&ref_url=https%3A%2F%2Fwww.11alive.com%2Farticle%2Fnews%2Fcharlotte-teen-registering-people-to-vote-as-they-wait-in-line-for-popeyes-chicken-sandwich%2F275-fa62f119-6abe-42fb-98e8-8121deec803f
… y'all good? https://t.co/lPaTFXfnyP

— Popeyes (@Popeyes) August 19, 2019
Headed to get that spicy chicken sandwich from Popeyes on Sunday @ChickfilA pic.twitter.com/2nKF7sJnTF

— Free Brittney Griner (@BruhvaRice) August 19, 2019