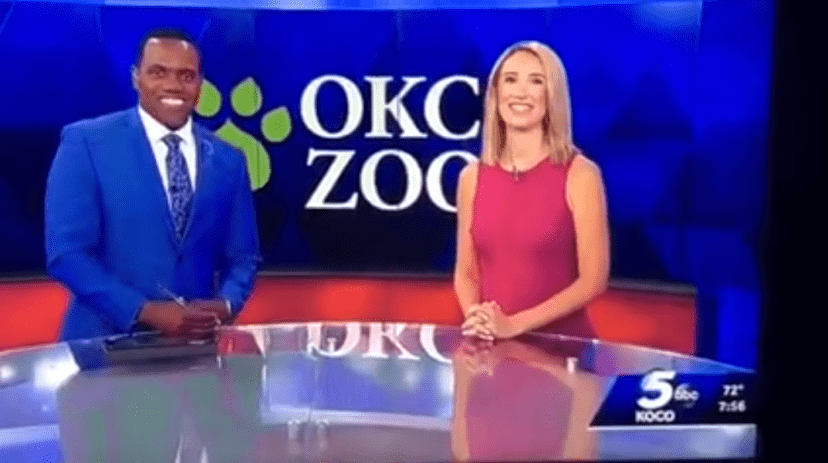 A White news anchor faced backlash after she compared her Black co-anchor to a gorilla. The incident occurred at station KOCO last week in Oklahoma.
During a live taping of a newscast featuring anchors Alex Housden and James Hackett, the two reported on a story about the Oklahoma City Zoo. The video clips featured a gorilla at the zoo. Before the segment concluded, Housden, who is White, made a comment about Hackett, who is Black.
"Kind of looks like you," Housden said, comparing Hackett to the gorilla. "Yeah, it kind of does, actually," Hackett replied.
Following the segment, Housden was blasted on social media and by viewers who were upset about the racial comment.
"You should be fired," Sonny Holloway wrote on Housden's Facebook page. "Your voice doesn't belong on the news anymore. If you're comfortable saying those kinds of things on air, who knows what you say behind closed doors. The petition to have you fired is coming and your days as an anchor are numbered. (sic)"
Another Facebook user, Charles Hopgood wrote, in part: "Hello Alex, as an African American male your comments about your co-anchor were disheartening, but I really want you to study the plight of African Americans so that you can understand and never make a mistake of that level ever again. (sic)"
Following the backlash, Housden apologized to Hackett for her comment on live TV with Hackett by her side.
"I said something yesterday that was inconsiderate, it was inappropriate, and I hurt people," Housden said. "I love our community, and I want you all to know, from the bottom of my heart, I apologize for what I said. I know it was wrong."
Hackett told Housden that he accepted the apology and wanted her and others to learn from the mistake.
"I want this to be a teachable moment, and the lesson here is that words matter," he said. "What we need to do is use those words not to hurt and not to divide, but to build a more perfect union."
Officials at KOCO have yet to reveal if Housden will be punished for her actions.