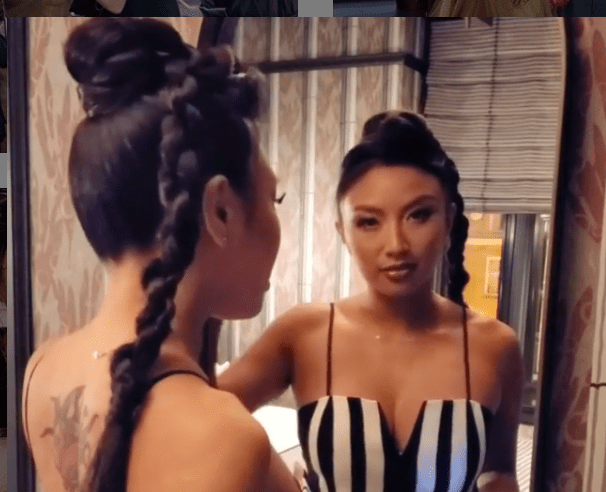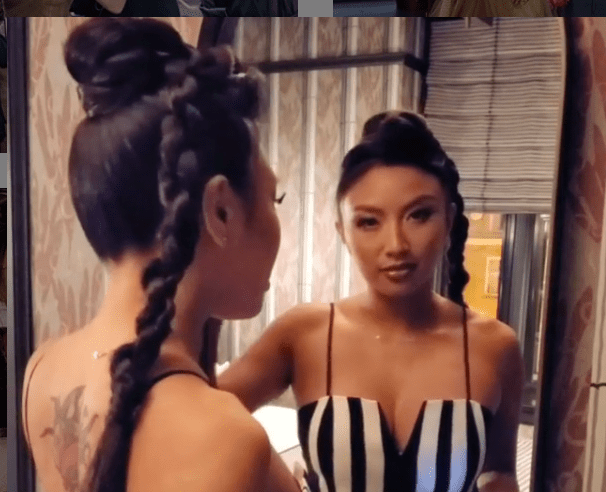 Social media can be an unforgiving and cold place, and it also has the memory of an elephant. It never forgets. Just ask "The Real" co-host Jeannie Mai.
Soon after Mai and rapper Jeezy announced their official relationship on Instagram, fans of "The Real" excavated a long-buried episode where Mai makes controversial utterances regarding her infatuation with Black men. She also insinuated that Black men were not marriage material in her opinion.
The episode is several years old and includes the ever-frenetic Tamar Braxton. Loni Love and Braxton checked Jeannie Mai in "The Real" episode which has resurfaced and now people are dragging Jeezy's boo-thang for allegedly being "racist".
As Love discussed her dating history with Black and Asian men, she asked Mai, "You dated Black guys?"
Mai's response was immediate and enthusiastic, but many fans said it was also foul … very foul.
"Love Black guys. For me, dark meat on the side; White keeps me mean and lean. That's why I married White. That's what I like."
"What do you mean dark meat on the side?" Love barked back with burrowed eyebrows.
Braxton was the most demonstrative of the co-hosts in demanding that Mai explain herself. "Wait, what are you reading it as? "How did you say it? You like your main man to be White and your side piece to be Black …"
Finally, the other co-host, Tamera Mowry, convinced Mai to elaborate on her thoughts.
Check out this episode from a few years back:
Black Twitter swarmed all over Mai for her previous pronouncements about her attraction to Black men and their place in her life. The results were not pretty. Here is a sampling of the responses:
Tamar caught the tea and was about to get her together. STOP FETISHIZING BLACK PEOPLE!!!pic.twitter.com/C9BKm3a60i

— Xim🚀 (@InvadarXim) September 5, 2019
You see how Jeezy & Jeanie Mai have made their relationship public. And all these ppl saying goals. Are seeing the bigger picture the comments the girl made were racist on the past and she's done it on more than 1 occasion. She fetishizes black men. But black women rooting. pic.twitter.com/z4O5oSnlxX

— Clarissa Explains it ALL 🖤🔮 (@_FemalePharaoh) September 5, 2019
Jeannie Mai literally was married to a Trump supporter and only left because they couldn't agree on whether to have kids. Now she's dating Young Jeezy. The fact that black folks are literally out here dating people who are indifferent to racism is so baffling to me. pic.twitter.com/6vKycJPrJQ

— Felicia Isaac (@felicialashay22) September 4, 2019
I guess Jeezy was Jeannie Mai's "dark meat on the side" that she upgraded to a main course pic.twitter.com/Awl6rbJiDn

— PettyByNature💋 (@xoxopettygal) September 5, 2019
None of them called BW the Other Dark Meat (on the side) https://t.co/GErVscH6bC

— Alive Girl 🇵🇷 (@_ItsMarisWorld_) September 5, 2019
Love yourself, Kings. You are more than just the darkie on the side. I mean dark meat on the side .

— Niece Niece 🇦🇬 (@HOT_TOMALAY) September 5, 2019
You all love Jeannie Mai with Jeezy But sis fetishizes black men. Now people will see why I didn't like the down play and her mom is a whole racist. pic.twitter.com/G6YjcW68yJ

— Clarissa Explains it ALL 🖤🔮 (@_FemalePharaoh) September 5, 2019
If jeezy wants to be called a nickgurr in bed by his woman who has made very public remarks about her fetish and not taking black men serious then who are me to judge lmao

— Now she in distress /😳/ 😳 (@MEEK_ndhumble) September 4, 2019
Jeezy and Jeannie Mai roleplaying 🥰🥰🥰🥰🥰 pic.twitter.com/yDZA2Xa7Yo

— Not Kee Kee's Mama (@breonthebeat) September 4, 2019
Tamar caught the tea and was about to get her together. STOP FETISHIZING BLACK PEOPLE!!!pic.twitter.com/C9BKm3a60i

— Xim🚀 (@InvadarXim) September 5, 2019